Ebubiase beat Heart of Lions at Bekwai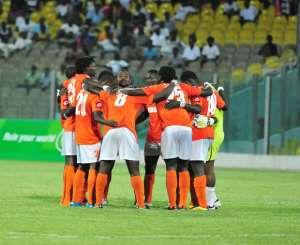 new edubiase
57731
Bekwai, Mar. 17, GNA - Edubiase beat visiting Heart of Lions 2-0 in their Week 18 Premiership encounter at the Gyamfi Park, Asante Bekwai on Sunday.
Both sides started the game well with Edubiase having the upper-hand for the first 10 minutes but Nuhu Suleiman and Stephen Manu wasted chances that came their way.
Five minutes later, Eugene Amoah managed to score for Edubiase with a shot that beat Nana Bonsu in post for the visitors.
In the second half, Heart of Lions piled pressure on their hosts in their quest for the equalizer but the defence of Edubiase backed by goalkeeper Eric Nii Baah was unyielding.
With all point towards a narrow win for the homers, Manu made amends for his earlier misses with the second goal on the stroke of full time.
 
GNA