Image of the Day : Opening Ceremony U 20 AFCON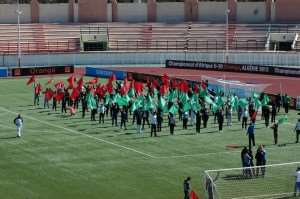 The opening ceremony of the 18th edition of the African Cup of less than 20 years took place on Saturday with the performance of girls and boys from the host city. In a general movement, they drew flag in hand, a large "V" for victory symbol before forming the map of the African continent.
The artist Bellemou, big name of Rai music, performed several tracks from local heritage. Several political and administrative authorities with Algerian Minister of Youth and Sports, Tahmi Mohamed, Minister of Sport Benin, Didier Ablogan Djibodé, and the president of the National People's Congress of Algeria (AFN) are this Saturday at Ain Temouchent.
The meeting Algeria Benin-opened the competition. It will be followed in the evening by the match Ghana vs Egypt, meets heavyweight.