Image of the day : Didier Drogba is buffooning!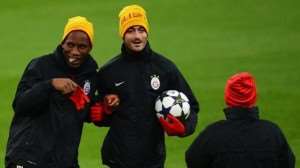 It was Monday at the traditional final training session before a match of the Champions League. Galatarasary, traveling to Germany to face Schalke 04 refined its range at Glesenkirchen Arena.
Not only Didier Drogba knows how to score nice goals but also he is a whiz of laughter and teasing. On this image, we can see him tongue out with his teammate Alberto Riera.
Sitting in a relaxed atmosphere before facing this afternoon the Blues of Ruhr. Maybe he will score one goal and qualify his team to celebrate his 35th birthday.