Ghana: the offices of the former international, Samuel Kufuor on fire!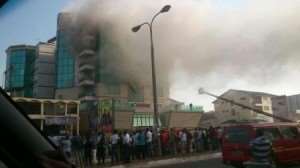 We've just learned it!
A large fire broke out this morning in Accra in the building that houses the offices of the former Ghanaian international, Sammy Osei Kufuor .
Firefighters are currently working to extinguish the fire, but it was reported that the fire has already destroyed much of the building. The premises are located in the city center at a place called Kwame Nkrumah Circle .
More to follow …
(Photo: 90 Newspapers)