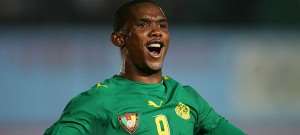 Jean Paul Akono could not do without him. Anzhi Makhachkala striker Samuel Eto'o is called by the coach of the national team of Cameroon to face Togo on March 23 during the third day of the knockout stage of the World Cup 2014.
The Lions captain very critical vis-Ã -vis the Cameroon footballe (Facefoot) said he did not believe in his team victory against Togo: "I do not see the spirit of Cameroon to face this team in light of its performance at the Can and in view of the current state of "Lions". " These words of Samuel Eto'o threatened with death after his revelations about the federation, made uncertain his participation in this meeting.
On the side of the Hawks of Togo, the final list is yet to be published. Sources close to the federation evoke the absence of Adebayor Sheyi and Agassa Kossi in the list of Didier Six.
Here is the list of 24 players :
Charles Itandje, Loïc Feudjou, Ndy Assembe, Benoît Anbwa, Allan Nyom, Benoît Assou, Ekotto, Nicolas Nkoulou, Jean-Armel Kana-Biyick, Dany Nounkeu, Sébastien Bassong, Henri Bedimo, Jean II Makoun, Joël Matip, Wome Nlend, Stéphane Mbia, Fabrice Olinga Essono, Aurélien Chedjou, Andongcho Mbuta, Achille Emana, Alexandre Song, Samuel Eto'o, Choupo Moting, Yannick Ndjeng et Léonard Kweuke.