Kossi Agassa: A few messages of support for him!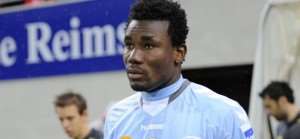 The goalkeeper of theHawks of Togo was not really at the party Saturday in Ligue 1 in France. But everyone does not hit on Kossi Agassa . Here are two posts from the Reims stadium News red and white fan club Facebook group of Champagne.
"There those who criticizes Agassa … Ok well yesterday he was not in his match and then? Don't forget all he has done to the RDS, all of these cases, all the points he made the team win and still continue to win again! What I hear people saying that he should be barred from the club because it is a crap, or that he has no hands and he'd better stop playing, then these people will be the first to suck him when he shall make decisive decisions.. Kossi Agassa, i am always behind you ♥! ".
"I do not take the word often but I have to do it! For information Kossi Agassa was in tears last night after a match against Troyes, it is true that he has made mistakes during the game last night, but it seems that many have forgotten the extraordinary season he led  with his magnificent past judgments, which have enabled us to live up to league 1 this year, and what a wonderful start to the season that takes us from the beginning of the season, error is human, and here I address all supporters of Reims: we are supporters of the stadium of Reims, its guardian and its players, the goalkeeper is not the last bastion and defense yesterday also was not at all, as well as many middle loss of ball, it is a collective team work, not the keeper. So all together let's support our wonderful caretaker and our beautiful red and white team, and together we will continue in league 1, because this is what is being a true supporter of Reims stage! Proud to be a Reims! Go to a max I like to guard our Kossi Agassa and our team. Signed Johan founder of the reims stadium cur red and white! ".
That's what should give him a smile!