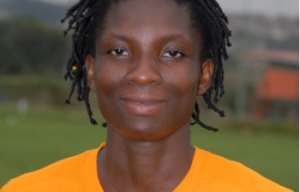 Jeanne Gnago is an Ivorian footballer born on January 1, 1990 who evolves in the Juventus' club of Yopougon. She is the captain of her team and they won several trophies.
Career
The midfielder of 22 girls was one of the girls who qualify Ivory Coast for the first Afcon (Equatorial Guinea 2012).
Devoted to the task, the captain had not been begged to be at her best and hinder opponents. As was the case at the international final of women's football played in Burkina Faso in 2004.
Palmarès
2012: Best player of Ivorian Women football championship
2012: First Female Afcon with the elephants of Ivory Coast
2011: Winner of the National Cup, winner of the Federation Cup
2010: Winner of the Federation Cup
2008: Champion of Côte d'Ivoire, the National Cup winner, winner of the Federation Cup
2004: Winner of the Women International Tournament in Burkina Faso
Gnago Jeanne was nominated for the title of "African female footballer of the year" for 2012 Africa Top Sports Awards.