IMCC proposes a new formula for the creation of MMDAs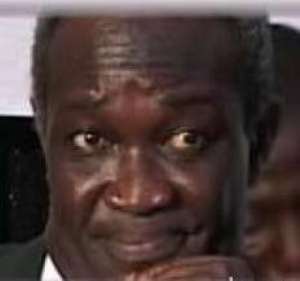 Professor Kwamena Ahwoi
Accra, March 8, GNA - The Inter-Ministerial Coordinating Committee (IMCC) on decentralization, has put forward in a draft consolidated local government bill, a fresh formula for the creation of Metropolitan, Municipal and District Assembly (MMDAs).
If the bill is passed, the creation of MMDAs would now be based on the percentage of national population determined in a census year to replace the previous formula that depended on absolute minimum population thresholds.
Professor Kwamena Ahwoi, a Local Governance Expert, disclosed this during Draft Consolidated Local Government Bill Stakeholder Consultation meeting with National Association of Local Authorities of Ghana (NALAG) on Thursday.
Professor Ahwoi explained that the previous 75,000 minimum population limit required for the creation would be expected to be based on 0.5 per cent of national population while 95,000 least population verge required to form a municipality would be anticipated to be 1.0 per cent of the national population.
For minimum population previously needed to create a metropolitan, which used to be 250,000, would now be projected to be converted to 2.0 per cent of the national population, he added.
He said the proposal to convert absolute figures to percentages for the formation of MMDAs was to address some contentious issues that usually associated with its creation.
Prof Ahwoi said the proposals put forward would, therefore, helped to safeguard districts in existence, which did not qualify as districts in terms of the criteria for the creation of districts with the coming into force of the consolidated legislation.
He said it was also to help ease political pressure for the creation of the districts after every national population census by focusing more on planning and other technical considerations rather than on political consideration as it had appeared to be the case in the past.
Professor Ahwoi said the formula for creation of the districts would help deal with the current situation where increases in population were not matched by a corresponding increase in the minimum population threshold required for the creation of districts.
The Assembly system of local governance was introduced in 1988 in Ghana. Over the years, various issues had arisen in the course of implementation necessitating a project for a stakeholder consultation process to review twenty years of decentralization and the assembly system.
Dr Callistus Mahama, Coordinator of IMCC Secretariat, said the objective of the Consultative Process was to engage identifiable stakeholder groups in a review of twenty years of decentralization and the assembly system, with a view to assessing the conceptual issues, distilling lessons and generating recommendations for the way forward.
He said the consultation process was intended to provide a wide range of opportunities for all sections of the population to participate, contribute to and feel that their issues have been taken into account.
Dr Mahama expressed the hope that the process would go a long way to enhance a sense of ownership and recognition of the direction that was being taken in relation to decentralization.
 
GNA