UDS hosts 2013 GUSA games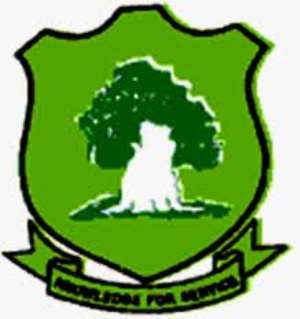 UDS
Tamale, March 4, GNA - The University for Development Studies (UDS) is hosting the 5th Mini Ghana Universities Sport Association (GUSA) games which opened on Monday at the Tamale Sports Stadium.
The participating universities are: UDS, University of Ghana (UG), UMaT, Kwame Nkrumah University of Science and Technology (KNUST), UPSA, UCC, and UEW. The games are expected to end on Saturday 9th March.
The game, an annual event, comprising athletics, football, triple jump, long jump, pole vault, javelin, high jump and many more, saw the UDS, the host University, being beaten by the University of Education, Winneba in the opening game of soccer by 3 to 1.  
Prof. Haruna Yakubu, the Vice Chancellor for the UDS, addressing the opening ceremony entreated students to eschew drug abuses in their various campuses and be discipline for a positive development of the nation.
He observed that indiscipline was on the ascendency among the university students noting that drug abuse, sale of narcotics on campuses, destruction of school property and examination malpractices and advised them against such acts.
Prof. Yakubu also stated that there was a growing conviction and correlation of sports to development since the economically endowed nations had good sporting performances.
Mr. Moses Bukari Mabenga, the Caretaker Northern Regional Minister said the University games were opportunities to infuse sporting activities with quality education, adding that it was an avenue to develop student's personal skills and create a common culture of unity among citizens.
He said the 5th Mini GUSA games should unearth talents sportsmen and women who would represent Ghana in future international competitions and urged the players to exhibit a higher, faster and stronger Olympic spirit.
Mr. Mabengba urged the various universities to support their sports directorates and sections to develop the full potentials of students stressing that students must endeavour to combine academic work with sports.
Mr. Albert Yawson, Acting President of GUSA, mentioned UG, UCC and KNUST as the founding members indicating that the membership of GUSA stood at seven currently comprising UG,UCC,KNUST, UEW, UDS, UPSA AND UMaT and expecting the University of Allied Sciences in Sunyani and the University of Health Sciences, Ho, to join soon.
He said GUSA organised a number of events in 2012 including GUSA in January at KNUST, cross country competition in November at Legon, two general assembly meetings in UG and KNUST.
Mr. Yawson said GUSA also participated in the 6th FASU Games held in Namibia from 12th to 23rd December where Ghana competed in two out of nine disciplines and placed 5th among the 15 participating countries.
 
GNA