'Boxing Has Huge Potential'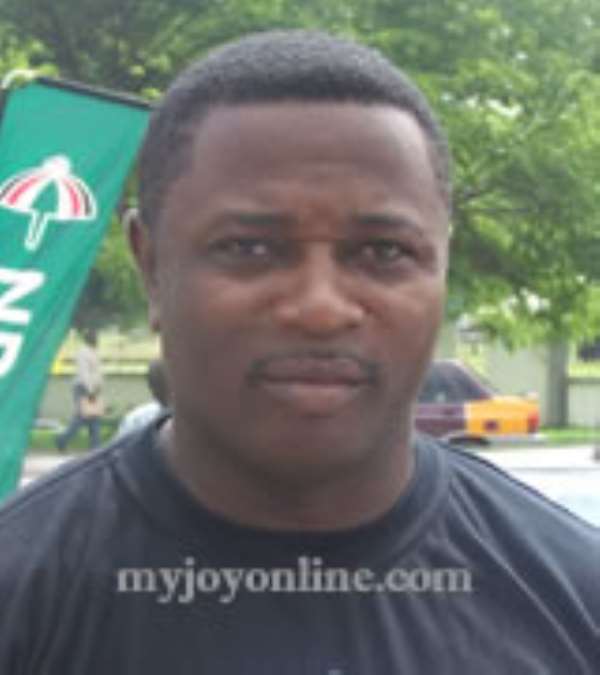 Sports Minister interacting with Bukom Banku during the visit
After his extensive tour of the boxing dome of Bukom, an Accra suburb, Sports Minister Elvis Afriyie Ankrah  believes  the sport abounds in  great  potential.
The Minister,  in the company of  the acting National Sports Authority (NSA) boss, Alice Atipoe  and GBA scribe R O Lamptey,  visited the Ato Quarshie, Will Power, Black Panther and the Akotoku Academy Gyms to have a first hand information about the state of the sport and how to support it.
After interactions  with  coaches , trainers and some of the trainees from the gyms, he commended them highly for their  efforts despite the precarious  challenges  such as – lack of  proper equipment,  confronting  them.
Having  produced  seven world champions  in the persons of David Kotei Poison, Azumah Nelson, Ike Quartey, Alfred Kotey, Nana Yaw Konadu, Joshua Clottey and Joseph Agbeko, boxing , as observed by the new sports chief , really deserve more attention.
Inspired by  the enthusiasm of the  boxers he sighted at the various gyms, he promised, as a matter of urgency, to upgrade the gyms to  basic boxing standards, saying 'The environment doesn't inspire, even ventilation is a problem, and despite the odds, you have been able to produce great boxers.
'I don't think it takes a lot to bring some of these gyms to the basic boxing  gym standard.'
He, therefore, pledged  government's  support  in that regard within the  short  term.
But in the long term, he promised the construction of a modern boxing gymnasium  in the area, after a visit to one of the gyms with poor ventilation which stirred him to remark 'This can't continue, it's an eyesore, but don't give up, things will be alright soon.'
'I am here to see the real situation on the ground so I can report back to the president  who  has plans  of putting up a boxing  gym in the area soon.
'Boxing  has huge potential to win the country more laurels, as I indicated earlier, my ministry will give attention to all the sporting  disciplines. I would like to appeal to the corporate world to support  the less financed sports,' he added.
Earlier , the Minister visited former IBF Bantamweight Champion Joseph Agbeko at his gym, Bridge Boxing  Gym, in Accra to urge him on to go all out  in his impending vacant IBO World title fight against  Colombia's Luis Melendez.
By Kofi Owusu Aduonum