NBA : Ibaka against Griffin a hard duel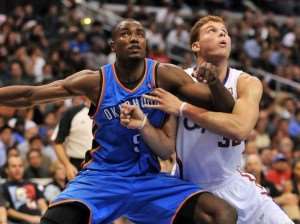 Oklahoma City trying to hold off another marquee team, Russell Westbrook took charge in the huddle. He urged his Thunder teammates to keep their composure, set screens and play defense.
They listened and turned away a late rally by the Los Angeles Clippers to win 108-104 on Sunday in a matchup of Western Conference contenders.
"It was a good road win for us in a playoff-type atmosphere," said Westbrook, who had 29 points and 10 assists. "We did a good job of keeping their crowd out of the game."
Kevin Durant poured in 35 points and Serge Ibaka had 16 as Oklahoma City ended a three-game road skid, bouncing back less than 48 hours after losing at Denver. They also completed a season sweep of the Clippers, who are chasing the Thunder and NBA-best San Antonio in the West.
"We weren't in a panic mode," Westbrook said. "We just wanted to win."
Chris Paul scored 26 points and Blake Griffin and Jamal Crawford added 20 points apiece for the Clippers, whose four-game winning streak ended in their third loss to the Thunder this season. Paul made all nine of his free throws to help his team go 19 for 22 from the line.
"We came up short, and it seemed like every time something happened, we just couldn't get over the hump," Paul said. "They got the timely calls when they needed them, but they played a pretty good game."
The referees were busy for much of the day, with the Clippers called for 26 fouls to the Thunder's 22 in a physical game that featured double technicals on Caron Butler and Kendrick Perkins for their verbal exchange and Ibaka's flagrant-1 foul on Griffin.
"It's always going to be a tough, chippy game any time we play them because we're both pretty physical teams with physical bigs, so there's a lot of pushing and all that down low," Griffin said. "I guess it's tough to officiate and know what to call and what not to, but they seemed to know today what to call."
The Clippers had four players in foul trouble in the second half: Griffin, Butler, Lamar Odom and Matt Barnes. Griffin fouled out with 59 seconds left. They went 9 for 24 from 3-point range and had 21 turnovers, including 16 in the first half  their most in a half this season.
"That's embarrassing. That's crazy. That's not like us," Paul said. "In the first half, they just did a good job of mucking the lane up. Every time I came down court, I saw a wall. They basically trapped me into ball screens. In the second half, we brought L.O. in and we went small, which opened the court up. And once we opened the court up, we could get into the lane and make plays and fire up shots."
Los Angeles came in trailing the Thunder by a half-game for second in the West, but played from behind nearly the entire game. The Clippers trimmed a 19-point deficit to 82-73 at the end of the third. Odom hit a 3-pointer and Paul completed a three-point play to give them the momentum and get the crowd back into the game.
"There's no such thing as moral victories to us," Griffin said. "We've been in this situation before, but we don't want to put ourselves in that situation. We've got to be better from start to finish to beat a team like this."
The Clippers outscored the Thunder 12-5 to open the fourth. Paul had six points, including a driving layup and a floater in the lane over Durant. Griffin then fed Crawford in the right corner for a 3-pointer that left the Clippers trailing 91-90.
The Thunder responded with six straight points, but Los Angeles rallied again. Barnes hit back-to-back 3-pointers on offensive rebounds to get the Clippers within three. Ibaka chopped Griffin in the right hip before Barnes' second 3 went in, with Griffin collapsing to the court and Ibaka receiving the flagrant.
"It's basketball, man," Griffin said. "Sometimes you take things a little too far, but I wasn't provoking [Ibaka] or anything like that."
Said Thunder coach Scott Brooks: "It was a scrum and both were battling for position."
A video review confirmed the call and Griffin went to the line, missing the first and making the second. The Clippers retained possession and Crawford hit a 3-pointer to give them their first lead of the game at 100-99 with 1:30 to play.
"He told us to keep playing," Durant said of Westbrook. "Everyone in the huddle was calm. We had a tough stretch but it was about how we bounced back."
The Thunder scored nine of the final 13 points.
Brooks credited Westbrook for instilling calm in the late going.
"His leadership is getting better year by year and it should be," he said. "Tonight was a classic example of what he's done. He's an emotional guy, but he keeps everything together."
The Thunder reached its first double-digit lead in the second during a 12-2 run that made it 53-37. Durant and Thabo Sefolosha hit back-to-back 3-pointers en route to a 54-41 lead at the break.
"We were moving the ball and doing a good job of closing the paint up," Durant said. "We eliminated some of these big-time plays."
Besides the turnovers, the Clippers were just 2 of 11 from 3-point range, missing four straight to close the second quarter.