Nigeria: Flying Eagles trashed by Tunisia in friendly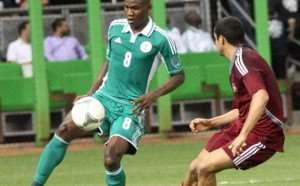 Nigeria's Flying Eagles lost 2-0 to their Tunisian counterparts in a warm-up match played on Thursday at the Esperance training ground complex.
The Nigeria U20s fell behind after 20 minutes through a glancing header inside the six-yard box, which goalkeeper Emmanuel Daniel helped into his goal.
The hosts doubled their lead six minutes later through another header inside the box off a free kick from the left.
Coach John Obuh made three changes by the 37th minute, replacing Azubuike Okechukwu, Abubakar Aliyu and Nzube Anaezemba with Ovboka Agboyi, Chidi Osuchukwu and Moses Orkuma.
Team's Media Officer, Samm Audu said the changes helped stabilize the Flying Eagles and just before the start of the second half, Alhaji Gero came on for Bright Osagie and Umar Aminu replaced Oluwaseun Taro.
"Gero sparked the Junior Eagles strike force. His header after 46 minutes went wide and five minutes later, his shot at goal missed target as the Flying Eagles took full charge of proceedings."
According to Audu, the African champions continued to dictate the pace with Uche Agbo failing to make hay when clear on goal after 65 minutes, before Gero created yet another opening only for his chip to go wide.
He said Gero was again involved in two serious incursions by the Flying Eagles to the Tunisia goal area.
"First, in the 77th minute, his header from inside the box brushed against the post before it rolled out for a goal kick.
"And in the 82nd minute, Aminu's header off a cross by Gero missed its mark."
The Flying Eagles will play a second test game against Esperance on Sunday.
 
Source: Thisday