Afcon U20/Nobilo: "Reaching the semi-finals"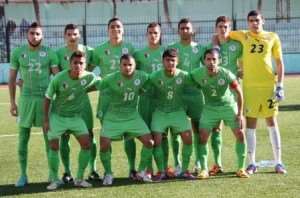 The Algerian under 20 national team prepares for the category of Afcon that Algeria is hosting  from 16th to 30th March.
The Young Fennecs delivered a friendly match against ES Sétif.
The Algeria Juniors beat (1-0) the Algerian championship professional leader of Ligue 1. The only goal of the game was scored by Zakaria Haddouche on penalty after a tackle from Izerghouf.
The Algerian Football U20′s objective at the African Cup of the category is to reach the semi-finals as said coach Jean-Marc Nobilo :
"Progress is palpable and I think we'll be ready for the championship of Africa."
"Our goal, despite the quality of our opponents in Group A (Egypt, Ghana and Benin, ed) is to reach the last four and qualify for the World Cup of the category scheduled in June in Turkey."