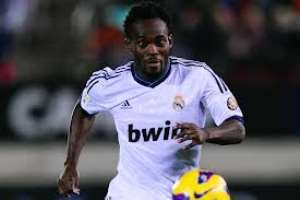 Michael Essien after taking a long break from the Ghanaian national football team following an injury has since been on the lookout but seems not to show any sign of interest.
The sudden turn down of the Ghanaian Black Star team by players is on the rise, according to a source close to the on - loan Chelsea star who plays for Real Madrid, it is said that the footballer is not happy with officials of the team who treat senior players shabbily as they entered the zenith of their careers.
The 2014 World Cup qualifiers is underway and the player claimed not to have gotten any phone call from either the coach or the officials and same thing he revealed happened during the 2013 Africa Cup of Nations.
Essien who believes a new injury to his fragile knee could mean the end to his career revealing he he is carefully making a return to the Ghanaian national football team and doesn't want to return treating injuries.