Pistorius case : Reeva Steenkamp killed because of an unexpected pregnancy! (Media)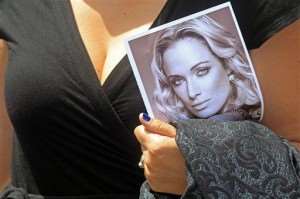 It is the Daily Mail that revealed that information this morning. The companion of Oscar Pistorius is pregnant when she on the day of Valentine Day. This is why the athlete allegedly shot Reeva Steenkamp .
The "Blade Runner" would have shot his girlfriend after learning she was expecting a child. Another tabloid, The National Enquirer already reported on Monday that this unexpected news put Oscar Pistorius beside himself.
"For the police, pregnancy secretly killed by Reeva until evening led her to the tragic death," said the newspaper citing its source.
An autopsy on the corpse of Reeva Steenkamp tells you more. But the results will be kept secret until the trial begins on June 4 .
Pistorius currently on bail is living with his uncle. He ordered Tuesday a private office to pay tribute to his fiancée.