Edubiase beat Arsenal 1 - 0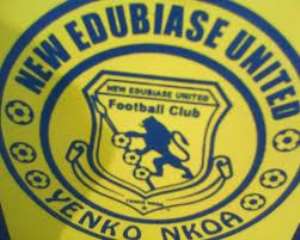 New Edudiase United logo
Bekwai (Ash), Feb. 24, GNA - Ghana's CAF Confederation Cup campaigners, New Edubiase F/C beat Berekum Arsenal 1-0 in the resumed second round Glo Premier league encounter played at Asante Bekwai Gyamfi Park on Saturday.
The scoreless first half saw both sides trying to find the leader and chances created could not be utilized by the attackers with Edubiase being the worst offenders.
However, in the second half Edubiase continued pressing Arsenal and their efforts were rewarded with a goal in the 75th minute by Yussif Mamoud in a goal-mouth tussle.
Arsenal made a last minute effort to level up but found the defence of the homers difficult to beat until the final whistle. GNA