Complainant in John Paintsil assault case withdraws complaint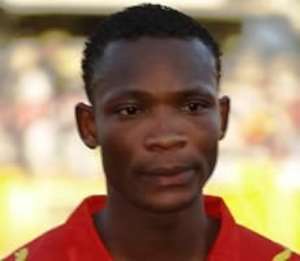 The complainant at the centre of the controversial John Paintsil assault case has decided not to press charges against the Black Stars player.
Amoah Danquah lodged a complaint with the Legon Police in Accra against the footballer, whom he accused of assaulting him as well as his own wife, Richlove Paintsil.
Mrs Paintsil was reported to have run into Mr Danquah's residence after her husband assaulted her.
The deputy Black Stars skipper allegedly chased his wife to their neighbour's residence and then proceeded to assault Danquah for sheltering her.
Mr Danquah then reported the case to the police, leading to Paintsil's arrest Friday. He was later granted bail.
His wife has since denied the reports even though the police insist they have medical reports indicating that she was assaulted.
The complainant told Joy Sports' Rashidat Kadiri that he decided to drop the charges after several appeals from members of the Ghana Football Association.
He said his own kids, who are friends with John Paintsil's, have also pleaded with him to drop the case.
It is unclear what action the police will take if any, especially now that the major actors in the case have decided to settle their differences amicably.