Ghana: John Paintsil out of Police grips, wife denies stabbing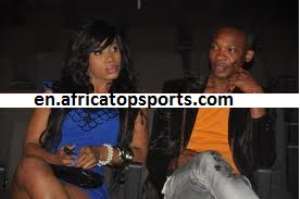 Ghana defender John Pantsil has been released by the Ghanaian police on bail on Friday evening after been accused stabbing the wife.
This comes in the wake of a domestic altercation with his spouse Richlove Paintsil which attracted the neighbour who is now seeking to press charges against the right-back.
Ironically, Richlove who was the key actor in the incident at the affluent neighbourhood of East Legon, told police she wants their differences to be settled at home and did not level any charges against the player.
Richlove vehemently rejected a report that she was stabbed by the defender contrary to reports by a section of the Ghanaian press and was never unconscious.
Several members of the Ghana FA were at the Legon Police Station in Accra to offer their support to the family when news of the incident broke.
'John Paintsil has been released on bail following a charge against him by a neighbour,' Ghana FA spokesman Ibrahim Sannie Daara told the press at the Legon Police Station.
'Mrs. Richlove Paintsil did not press any charge against Mr. John Paintsil and any misunderstanding between them will be solved at home.
'There was no stabbing whatsoever during the incident and no one was unconscious because of the incident.
'I am pleading with the press to be circumspect with their reportage as we have already seen some reports which are wide off the mark.'
Greater Accra Police PRO Freeman Tettey had confirmed to Joy News the arrest of John Paintsil over allegations he stabbed his wife.
He said the Black Stars defender has been charged for assault and causing body harm.
He also said the wife fell unconscious, rushed to the hospital and is receiving treatment.
But in a dramatic twist the wife told Joy News it was only a domestic quarrel.
She would not go into details on what happened, except to warn the interviewer to respect her rights to privacy.
Richlove Paintsil also cautioned against the publishing or airing of the incident.
She said the police account must not be taken seriously. She said she is heading to the Legon Police where her husband has been held to secure his release.
Paintsil has alsothreatened to sue any media house that continues to carry on with the story of his wife.
 
Read:
http://en.africatopsports.com/2013/02/22/ghana-john-paintsil-arrested-for-assault-and-causing-harm-to-wife-2/