Wonder Tackie Fights For WBU Crown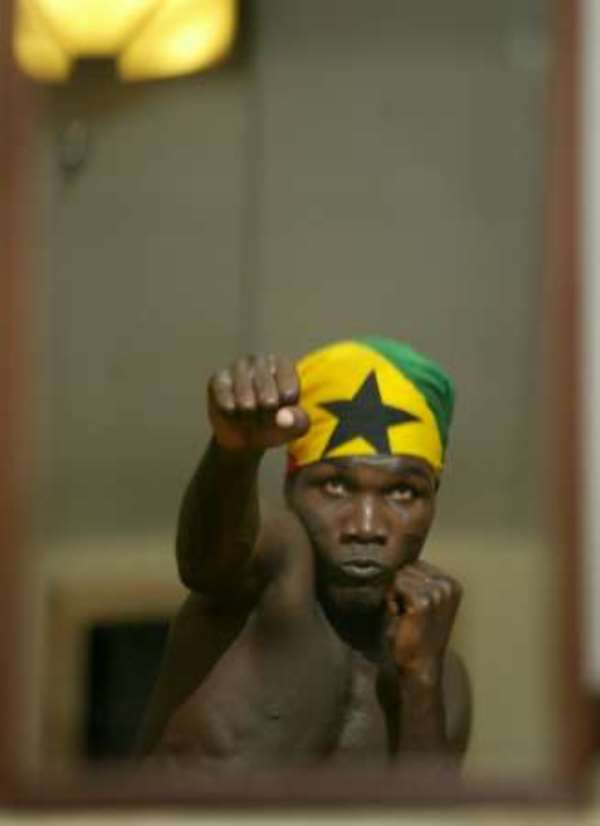 Come December 13, Ben Wonder Tackie of Ghana will vie for Britain's Ricky Hatton's WBU super lightweight title in unfamiliar environs of Manchester in England. The date offers the Ghanaian another opportunity to claim the honour of a world champion which has eluded him once already.
In June last year, he fought Kostya Tszu for the IBF and WBC super lightweight titles but lost by a unanimous verdict to the Aussie. And since then the Ghanaian fighter says he has silently nursed the hope to have a second chance. "I now have it and this is my time. When your time comes, nothing can stop you from achieving your due," he told the Graphic Sports at the weekend.
In spite of his confidence, Tackie, a former holder of the IBF Continental and IBA titles, both in the lightweight division and the NABF super lightweight title, said he had scant knowledge about his opponent. "All I have seen of him is a crisp television promo that featured him alongside other boxers."
Yet he remains undisturbed by this crucial handicap. "When the time comes, we shall see. We are in a man's game." Hatton is 33-0 with 25 knockouts, an awesome record by all standards. But when the day comes, Tackie (24-4) will be counting on the quality of his present training as compared to the days of the fight against Tszu last year. Back to his roots in Ghana, he trains at the Black Panther boxing gym at Sempe in Accra, in the vicinity of Bukom, Ghana's boxing craddle.
On each week-day, he subjects his physical frame to three different workouts of two hours each, first jogging his way across the beaches of James Town at dawn and then taking to real action in the gym at late afternoon. He concludes the day with another run along the beach deep into the night.
"I do it to condition my body and mind properly for the fight. I have to sacrifice leisure for pain; pleasure is ahead and when it comes it will last longer than the pain I have endured," he said of his training. His gym regimen includes sparring sessions with four Accra-brewed boxers who, he said, offer him enough challenge in his preparation.
Lightweights Ben Ankrah and Joseph Sarkodie, featherweight Ben Odametey and welterweight Stephen Okai (Ataa Djata) take turns in sparring sessions with Tackie, either for sharp reflexes or for the hard punches traded in the ring. This is the secret of Tackie's confidence found explicitly in his words after his training last Friday, "All I am waiting for is the day".