Basketball : Jasmine Thomas acquired her dreams in Washington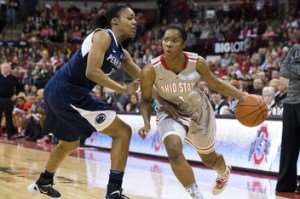 It was announced that the team has acquired guard Jasmine Thomas from the Washington Mystics. In the 2013 WNBA draft and Washington, the dream of Jasmine will also receive Washington 2 nd round pick.
In the WNBA, Jasmine will be entering her 3 rd season since she has been drafted with 12 overall pick on the 2011 WNBA Draft out of Duke University. She started 23 of Washington's 34 games last season, averaging 8.2 points, 2.8 assists and 2.4 rebounds per contest. She showed steady improvement during the season, averaging 11.8 points, 3.0 rebounds and 2.9 assists in nine September games to end the season.
'We're excited to have Jasmine join the Atlanta Dream,' said head coach and general manager Fred Williams. 'She fits the mold of what we need in our scheme both offensively and defensively, and her style of play really compliments our style of transition play. She has a quick first step, and the athletic ability to get to the basket and to compliment the strong defense we are known for.'