Put relishing Burkina's underdog status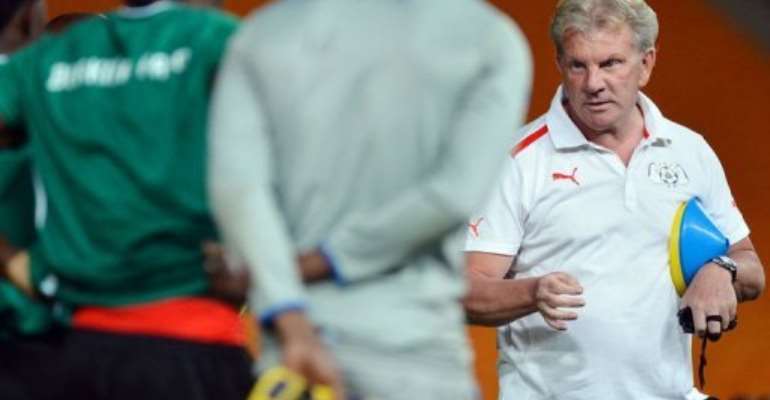 SOWETO, South Africa (AFP) - Burkina Faso are lapping up the mantle of underdog bestowed upon them against Nigeria in Sunday's Africa Cup of Nations final.
"We are facing the biggest football nation in Africa with a lot of top players. Nigeria are favourites, we're underdogs, it's already a victory to get to the final, now we'll see what happens tomorrow," said coach Paul Put.
He went on to express concern at a taxing trip from their South African headquarters in Nelspruit to Johannesburg on Friday.
"It's not good that we had a 10-hour wait at the airport in Nelspruit. It was very difficult, when we finally arrived all the players had heavy legs."
The pristine pitch at Soccer City is a world away from the fungal-attacked sandy, threadbare surface at Nelspruit's Mbombela Stadium, where Burkina Faso have played all their five matches in South Africa.
Commenting on the change in conditions, Put said: "Nelspruit wasn't great, so Soccer City will suit both Nigeria and my team -- both teams move the ball round well and like to play football."
Sunday's finalists met in the first round, the score on that occasion a 1-1 stalemate, with Put reflecting: "We've seen big progress by Nigeria since our meeting, but also in Burkina Faso, in terms of maturity."
Charles Kabore, who has been wearing the armband with captain Moumouni Dagano failing to make the starting line-up, added: "We've got quality players and we'll play to our maximum with no regret, and hopefully have a bit of luck.
"We've got nothing to lose and everything to win -- we'll play without any pressure."
Qatar-based striker Dagano reflected: "No one thought we could make the final, even if Nigeria are favourites they have to prove it on the pitch tomorrow."