Niger defender Dankwa has no mercy for Stars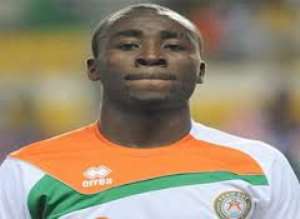 Koffi Dankwa
Port Elizabeth, Jan. 27, GNA - Ghana-born Niger defender, Koffi Dankwa will play his heart out for his adopted country, when the two sides square off in their Group B decider on Monday in Port Elizabeth.
Dankwa, born in Ghana told GNA Sports in Port Elizabeth he has no mercy for the Stars and will give his best to ensure the Mena progress at the expense of the country of his birth.
The 23-year old central defender who has been featuring for Niger since 2008, is relishing his first ever game against Ghana, coming at no other stage than the Africa Cup of Nations.
'It will be a great moment for me to play against Ghana. I would like to prove the stuff I'm made off. I have no hard feelings against Ghana but I want to give off the best for my team.
'I have promised my father that whenever I get the opportunity to play against Ghana, I will play my heart out to ensure victory for Niger.'
Dankwa reckons a tough test against the Stars as the Mena can only be on course for a place at the next round with no result other than victory.
However, the Tunisia-based defender adds that he will even go to celebrate when he scores against the Black Stars in the duel.
'Of course, I will celebrate when I score against Ghana, even if it means taking them out of the tournament.'
The defender, one of the best performers for the Niger team at the 2013 Africa Cup of Nations insists he has no regret playing for the largest country in West Africa.
'I have no regret playing for Niger. They have made me the Koffi Dankwa that I am today.'
A product of Stay Cool Professionals (now Zaytuna), Dankwa had some stints with the Black Satellites in 2008 before traveling to Niger to join Niamey-based giants, Sahel FC.
In 2010, he moved to Tunisia where he has since been with Esperance Sportive de Zarzis.
Dankwa is making his second successive appearance at the Africa Cup of Nations after making his debut last year in Gabon and Equatorial Guinea.
 
GNA