French-led troops advance on Timbuktu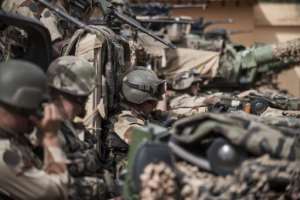 French army soldiers prepare to leave a base camp in Sevare, on January 22, 2013. By Fred Dufour (AFP/File)
BAMAKO (AFP) - French-led troops were advancing on Mali's fabled desert city of Timbuktu on Sunday after capturing a string of other towns in their offensive against Islamist militant groups in the north of the country.
French air strikes destroyed the home of the leader of an Al-Qaeda linked group in the town of Kidal overnight, 24 hours after French and Malian troops seized Gao, the biggest victory so far in their 17-day operation against the militants.
French Prime Minister Jean-Marc Ayrault said the troops were advancing on Timbuktu, a desert trading post and centre of Islamic learning for centuries, where 333 revered saints are believed to be buried.
Ayrault said the troops were currently "around Gao and (will be) soon near Timbuktu."
Meanwhile, African leaders meeting in the Ethiopian capital were discussing scaling up the number of African troops to join the offensive, after the African Union's outgoing chief admitted the body had not done enough to help Mali.
Gao is the biggest of six towns seized by the French and Malian troops since they launched their offensive on January 11 to wrest the vast desert north from the Islamists, who imposed a particularly brutal version of sharia law in areas under their control.
French-led forces on Saturday took Gao from the Al-Qaeda-linked Movement for Oneness and Jihad in West Africa (MUJAO), one of the Islamist groups that have controlled northern Mali for 10 months.
A Malian security source said the home of Ansar Dine (Defenders of the Faith) chief Iyad Ag Ghaly was destroyed in air raids on Islamist bases in Kidal, 1,500 kilometres (940 miles) north of the capital Bamako.
Kidal has been a bastion of Ansar Dine, whose leader is a former soldier and a Tuareg ex-rebel who formed the group last year.
The Mali crisis erupted in April last year in the chaotic aftermath of a coup in Bamako. An alliance of Tuareg rebels seeking an independent homeland in the north joined forces with several Islamist groups, seizing Kidal first and then Gao and Timbuktu.
The Islamists quickly sidelined the Tuaregs, imposing a harsh version of Islamic law which saw offenders flogged, stoned or executed while the militants banned music and television and forced women to wear veils.
France launched a military offensive on January 11 after Islamists captured a central town and pushed deeper into government territory towards Bamako.
Residents fleeing Timbuktu were jubilant, hailing France for stopping the Islamists' juggernaut while some clamoured for revenge.
"We have the feeling that we are soon going to be liberated," said Sidi Toure, a 67-year-old trader, speaking in the central town of Mopti about 250 kilometres south of Timbuktu.
"They looted... destroyed the mausoleums of saints and amputated the hands of people they accused of stealing," Amadou Alassane Mega told AFP.
"They beat us up when we smoked or listened to music," the 22-year-old student said. "They will have to pay for what they did to us. We will beat them up as well."
The French offensive got a fresh boost with Washington deciding to step up its role in the conflict by helping refuel French warplanes, a Pentagon spokesman said.
US Defence Secretary Leon Panetta and French counterpart Jean-Yves Le Drian also discussed plans for the Americans to transport troops from African nations, including Chad and Togo, to facilitate the international effort in Mali.
The US military has an unparalleled fleet of more than 400 tankers equipped to refuel fighters and other warplanes in mid-air. France has about 14 such tankers.
Meanwhile, outgoing African Union chairman Boni Yayi thanked France at a summit of the 54-member organisation in Addis Ababa, saying Paris had done Africa's job.
"I want to salute France," Benin's president told the summit, saying the AU response had been slow, and that France's action was something "we should have done a long time ago to defend a member country".
West African defence chiefs also agreed Saturday to boost their troop pledges for the force to 5,700 from the previous 4,500.
Chad, which neighbours Mali but is not a member of the Economic Community of West African States (ECOWAS) raising the force, has promised an additional 2,000 soldiers.
So far however, only a fraction of the African troops have arrived in Bamako and French and Malian forces have done all the fighting to date.
France has already deployed 2,500 troops to Mali and its defence ministry says 1,900 African soldiers are on the ground there and in Niger.