Morocco takes a step on path to gender equality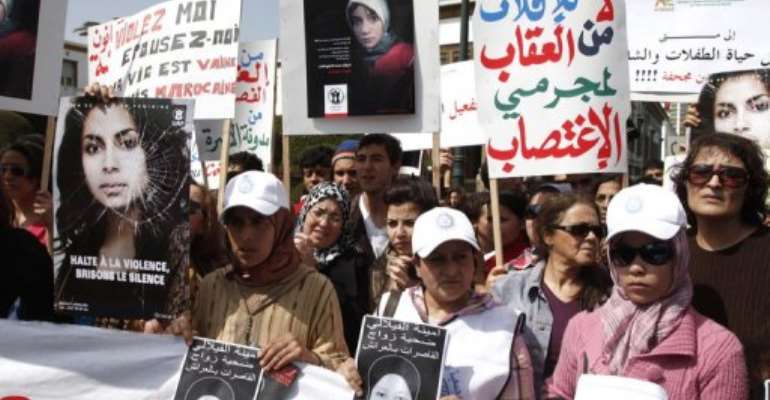 RABAT (AFP) - Women's rights in Morocco are poised to make a breakthrough with the probable scrapping of a law allowing rapists of minors to avoid jail by marrying them, but the road to gender equality remains long.
The kingdom was shocked in March 2012 by the suicide of Amina Filali, 16, who was forced to marry the man who violated her. For him it was a way under Article 475 of the country's penal code to remain a free man.
On Monday, the country's Islamist government expressed its backing for a bill to repeal this section of the law.
The justice ministry has also said it supports a proposal by parliament to alter the article, under which the rape of a minor is punishable by several years in prison unless the victims and their aggressor wed.
The proposal has yet to be formally approved by both houses, however.
The ministry said it was prepared to go further than scrapping the paragraph on marriage, suggesting harsher punishments for those who rape minors, including up to 30 years in jail rather than the current stipulated five.
"The amendments by nature guarantee the necessary protection for minors against sexual assault," said Justice Minister Mustapha Ramid.
Driss El Yazami, president of the National Council for Human Rights, told AFP that the way was now clear for a favourable amendment in both houses.
"Any progress is noteworthy and it is clear that there was a shocking provision" in the current law, he said, but also called for speedier reforms.
"The question is not simply to affirm the principle of equality, but to see how parity" can be achieved, he said, noting that his council urged the creation of a superior body on equality as stipulated under the constitution.
But progress towards gender equality in Morocco is moving slowly.
Since 2004, following an initiative by King Mohammed VI, Morocco has had a new family code (moudawana) governing polygamy.
However, the daily Le Soir Echos has cited alarming data showing that marriages of minors are on the rise in the kingdom, with 34,000 cases reported in 2010 -- up from 29,847 in 2008.
A key concern is violence against women, said Khadija Ryadi, president of the Moroccan Association for Human Rights.
Six million Moroccan women have suffered physical or verbal violence, more than half suffering abuse in marriages, according to Bassima Hakkaoui, the only female minister in a government dominated by Islamist Justice and Development Party which won the 2011 parliamentary polls.
Media reports have also highlighted other cases.
In early January an attempted suicide by a house maid caused an emotional outpouring in Morocco. The entire incident was recorded on video by a neighbour and posted on the Internet.
The young woman, who leapt from the fourth floor of an apartment building in Casablanca where she worked, said she was raped two years ago and rejected by her family.
She was saved by a young man who caught her but was killed doing so.
The maid said afterwards she had wanted to kill herself because of "continued exploitation."
Morocco has up to 80,000 minors who work as domestics, according to several associations.
Last week there was also an angry tumult when a member of parliament initially sentenced to a one-year jail term in a rape case was acquitted on appeal.
"The constitution has allowed some progress in theory, but there has been no tangible contribution," said Ryadi.
"If it hadn't been for the Amina Filali case, we would not have even be talking about Article 475" on the rape of minors, she added.
In the aftermath of the Arab Spring uprisings, the kingdom in mid-2011 enshrined "equal rights and freedoms" for men and women, adding that "the state would work to achieve parity" between the two.
Analyst Yazami says that what is needed now is a change of mentality.
"In addition to legislative reforms, there is probably very important work to be done in terms of education and mentality," he said.