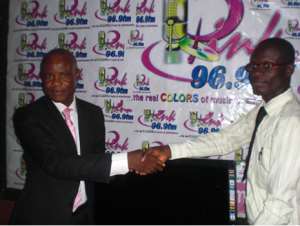 After twelve weeks of ferce and competitive challenge , Carl Partrick Ofori Aboagye a 22 year old student was emerged the winner of the maiden Pink Sports Challenge which was a sports quiz aired weekly from the 15th september to the15th december 2012 on Pink 96.9MHz and hosted Nana Yaw Asare ace sports journalist and a football pundit.
It is an initiative of Pink Panther Media holdings Ltd operators of Pink 96.9Mhz, a kasoa base radio station which gives the young,energetic and talented guys and girls the platform to showcase their knowledge and skills in sports .
"This challenge it's all about skills and knowledge," said Carl . He continued "Many competitors lost to me due to panic and lack of concentration but one needs good preparation and composure to be the best ." Watch out world here comes another talent.
The competition started with 64 applicants out of which Twelve 12 competitors were picked out of the lot in an audition. The selected 12 were further grouped into four and were evicted weekly. The Semi finals saw Ebenezer Zoor beating Nicolas Fianklu whiles Carl Patrick Ofori won against Odartey Lamptey to make it to the grand Finale . The listeners were not also left out as trivials with possible answer were give after each show and was answered by texting the correct answer through to the company's short code and the higest text with the correct answer was given consolation prize each week.

The Finals was held at the Pink Fm studios which saw the two competitors answering questions sinscilatingly and regrously from all sports Disciplines . Carl emerged winner after scoring 305 points and beating his opponent; Ebenezer Zor ruthlessly with a wide margin to take home the grand prize, 40' inch Samsung 3D television set .
Mr. Goodman Addai Baffour Chief Exective officer of Pink Panther Media Holding presenting the prizes to the competitors said " Use your skills and Knowledge acquired here to promte sports development in the Country". He further applauded the staff of pink fm for their effort and promised a bigger stake in the subsequent events.