Set up basic industries in villages - Asantehene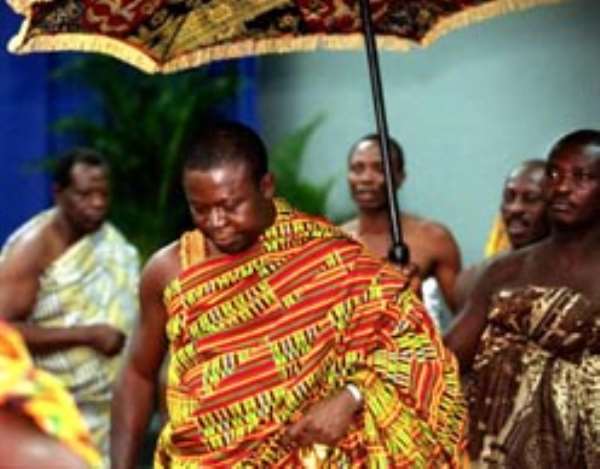 London, Oct 20, GNA - Otumfuo Osei Tutu 11, the Asantehene, on Sunday appealed to Ghanaians living abroad to spearhead the establishment of basic industries in their villages and towns to improve the quality of life of the inhabitants.
"All you need to do is to take a look back at the village where you were born. The mud houses you left behind are collapsing, the children are not going to school, the farmers are still doing subsistence farming and the population is growing by the minute. If you are a Ghanaian here you need to show concern."
Otumfuo Osei Tutu was speaking at a well-attended colourful durbar organised as part of the four-day exhibition and investment fair, Ghana Expo 2003.
The event, attended by Vice President Aliu Mahama, Mr Alan Kyerematen, Minister of Trade, Industry and the President's Special Initiatives, the Kaleo Naa, Vice President of the National House of Chiefs, some Regional Ministers and Ghanaians and foreigners from all over Britain, was to showcase Ghana's rich culture and to attract investments in tourism. Otumfuo Osei Tutu told Ghanaians living abroad to work towards the establishment of vocational schools for the training of the youth.
"I know you occasionally burn your fingers with unplanned business ventures but there is no excuse to turn your back on your village." The Asantehene also urged foreign investors to do business in Ghana because the political and economic environment is conducive for enterprises to thrive.
He expressed concern about Africa's image in the global media as a place characterised by chaos, inter-ethnic wars, acute famine and other negative activities, saying the gloomy picture deters investors. He assured prospective investors that Ghana is a peaceful, democratic and politically stable country and that as a former businessman his advice should be considered as a prudent professional one.
The Asantehene said traditional leaders are willing to corporate with enterprises that are environmentally friendly and possess the capacity to employ local people and to improve on their standard of living. Ghana's High Commissioner to the UK, Isaac Osei presented some drinks to the Asantehene on behalf of the Vice President.