Thrills At Mortein League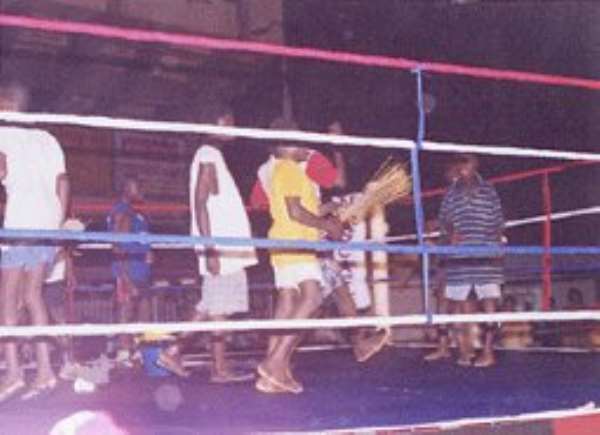 Boxing greats David Kotei, aka Poison, and Prof. Azumah Nelson last Saturday joined up-and-coming fighters, promoters and other dignitaries for the inaugural Mortein Professional Boxing League at the premises of Metro TV in Accra.
The novelty made-for-TV league featured 10 boxing gyms whose products slugged it out over six rounds for points and cash. And it was just appropriate that Ghana's former world champions, who were once products of these stables, showed up to add glamour and legitimacy to the innovation by the Ghana Boxing Authority (GBA), Metro TV, with support from Mortein Insecticides and Samsung Electronics.
Last Saturday's bouts, Fight Night 1, was not a classic, as it involved apprentices spurred on by a desire to reach greatness and an appearance fee of ¢500,000 each.
Nonetheless, spectators and the millions of television audience who watched the five bouts live had lots to cheer about - from hot exchanges to a bit of comic relief.
The league was preceded by an exhibition bout between Kpakpo Allotey and Isaac Todjro, after which bantamweights Isaac Nettey of Attoh Quarshie Club and Herbert Quartey of Akotoku Academy, easily the super powers among boxing gyms in Ghana.
It was an appropriate opener as the two fighters engaged in a slugfest that produced a cut on Nettey's eyelid and three knockdowns by both fighters. In the end, the ringside judges handed Quartey a unanimous points decision. Alfred Quaye of Believer's Club and Samuel Adoteye of Wisdom Club took their turn in a bantamweight contest that Quaye won by a split points verdict.
Super lightweight Gabriel Adoko of Sagacious Club scored a third round TKO victory over Liberian Isaac Toeger of Fire Service Club after his corner had thrown in the towel in the third round to save him from further punishment. Toeger survived two knockdowns in the second and third rounds before referee Bob Sackey halted the bout with 14 seconds of the round left.
The final bout, a super welterweight contest between Isaac Sackey of Black Panther Club and Ishmael Tetteh of Panix Club, was full of fireworks, but Tetteh amassed enough points to win a unanimous points decision, despite losing a point for head-butting in round five.
Perhaps the biggest excitement came in the third bout between featherweights Thompson Arap Moi and Daniel Tetteh, as both boxers produced more comic relief than ringcraft throughout the six rounds.
Tetteh, however, threw more quality punches to be declared winner by a unanimous points decision.
The winning clubs were awarded three points with no point for the losers. However, Adoko's TKO victory earned Sagacious an extra point which propelled them to the top of the 10-club league table