Stars to be housed in Group B or D for 2013 AFCON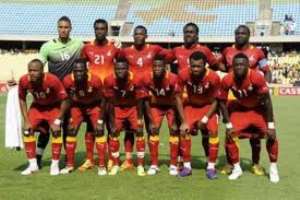 Accra, Oct. 18, GNA – Ghana's Black Stars will be housed in either Group B or D during the 2013 Africa Cup of Nations.
According to information gathered by GNA Sports at the secretariat of the Confederation of African Football (CAF), the Stars or the Elephants of Cote d'Ivoire will be placed in either Group B or D during the official draw of the tournament fixed for October 24 in Durban, South Africa.
The Stars will be based in Port Elizabeth if they end up in Group B and Rustenburg in the event of Group D.
Hosts South Africa will play in Group A whilst holders Zambia are in Group C.
CAF said the ranking of the remaining 14 qualified teams minus hosts South Africa and current champions, Zambia was based on the performance of each team at the last three editions of the continental flagship event; 2008 (Ghana), 2010 (Angola) and 2012 (Gabon & Equatorial Guinea).
It explained that a point system of seven was awarded to winners at the three previous tournaments, five for losing finalists, three for semi finalists, two for quarter finalists and one for teams eliminated at the group phase.
"Moreover, a weighted coefficient on points will be given to each of the last three editions of the Africa Cup of Nations as follows; 2012 edition: points to be multiplied by 3; 2010 edition: points to be multiplied by 2 and 2008 edition: points to be multiplied by 1."
With that, Ghana and Cote d'Ivoire each raked 22 points, joining hosts South Africa and holders Zambia in Pot One, which houses the top seeds.
Pot Two is constituted by Mali, Tunisia, Angola and Nigeria; Pot Three has Algeria, Burkina Faso, Morocco and Niger with DR Congo, Togo, Cape Verde and Ethiopia in Pot Four.
It means that Ghana can only clash with South Africa, Cote d'Ivoire or Zambia at the knockout stages but there is a huge possibility of being housed in the same group with giants such as Tunisia, Nigeria or Morocco.
The final tournament will be held from 19 January to 10 February, 2013.
The Stars as top seeds in 2010 and 2012 where housed in Group B and Group D respectively where they played their games in Cabinda (Angola) and Franceville (Gabon).
GNA