October 7, 2012
|
League Report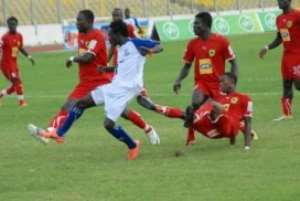 Tema based Amidaus Professionals defied all odds by invading the Baba Yara Sports Stadium Sunday and held the Porcupine Warriors, Kumasi Asante Kotoko to a goalless draw in their maiden Glo Premier league match to prove that even at that level, they would not be mere push overs.
After defeating Kotoko 2-0 in the MTN/FA cup match to deny Kotoko the opportunity of achieving the double, the expectation was that Kotoko would have their pound of flesh at the Baba Yara Stadium, but it was the visitors who almost caused a stir, especially in the second half when the visitors put Kotoko to the wall, causing Isaac Amoako in post to make countless saves to keep the scores intact.
Moments after the game kicked off, the two teams took little time to size each other as they plunged into battle.
With Kofi Koomson, Emmanuel Morgan and Emmanuel Ofori tightening the defence of the visitors and their midfielders also neutralizing their counterparts of Kotoko, the two teams could hardly penetrate each others defence .
It was not until the 27th minute that Michael Helegbe had an open chance, but as he made a solo efforts, entered the vital area, with Eric Ofori Antwi at his mercy in the post, Helegbe rather passed the ball to a colleague, causing a defender to clear the ball to safety.
In the 32nd minute, Ransford Osei also managed to break the tight defence of Amidaus but Eric Ofori again made a bold save to deny Kotoko the opener.
Left off the hook, Amidaus took control of the game and also came close in the 38th minute but Isaac Amoako in post of came out from the 18 yard to handle the ball, causing the referee to flash out the yellow card at his face.
If the first half was tensed for Kotoko, the second half proved more slippery as the visitors started punching holes in their wall, causing the defenders to chase the shadows of the visitors, keeping Isaac Amoako much more busy .
In the 49th minute for example, Yahaya Muhammed who was a torn in the flesh of the Kotoko defenders came close and released a bullet which Isaac Amoako struggled to push to safety.
In the 51st minute Roger Adongo also succeeded in turning the Kotoko defenders inside out and entered the box but as he made attempt to release a bullet, a defender came from nowhere to scoop the ball to safety.
Amidaus continued to torment Kotoko with Yahaya Muhammed as their chief tormentor, but in all their attempts Isaac Amoako proved equal to the task as he made brilliant saves to salvage a point for the homesters.