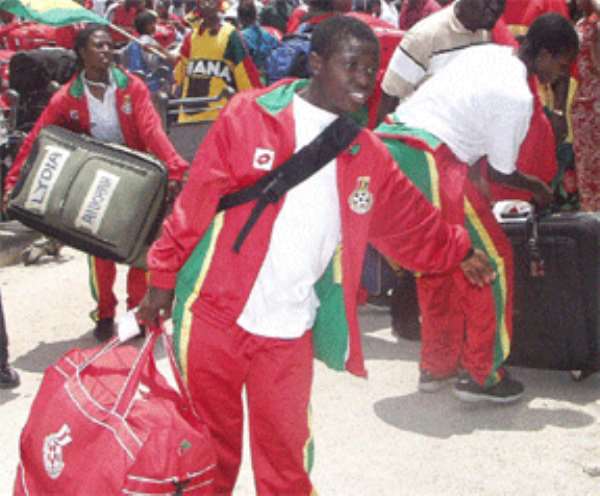 The national women's soccer team, Black Queens, arrived home from the United States of America to a rousing welcome, in spite of their early exit from the ongoing Women's World Cup.
The team returned without skipper Alberta Sackey and Elizabeth Baidu, both schooling at the Robert Morris College in the US, and Mimi Osei Agyeman, who lives in the US.
The high-powered welcome party included the Minister of Education, Youth and Sports, Mr Baah-Wiredu, and the minister of State at that Ministry, Mr Rashid Bawa, who were joined by a large crowd which converged at the arrival lounge of the Kotoka International Airport to welcome the Queens.
Mr Kwadwo Baah-Wiredu was full of praise for the Queens' vintage peformance and assured them of the ministry's assistance at all times, after which he announced a bonus of ¢10 million from the government to each player.
In an interview with the Queens' coach, Mr Oko Aryee, he expressed satisfaction with the team's performance, despite their failure to qualify to the quarter final stage of the competition. In his opinion their perforamce was a vast improvement on their maiden World Cup appearance in 1999.
"I was impressed, although the team's attack lacked the needed potency to penetrate their opponents' defence. Their general output was great," he said.
Touching on the team's selection, coach Aryee denied allegations that he was influenced by superior authorities to field certain players. "It was just hard luck on the part of the Queens. I have always been independent-minded and firm in the selection of my team and always insist on the best," he added.
The chairman of the Ghana Football Association (GFA), Mr Ben Koufie, also commended the Queens for lifting high the flag of Ghana in the United Stats. He praised skipper Sackey and Adjoa Bayor for their exeptional performance against Australia.
Led by a brass band, the team was later driven through some principal streets of Accra to receive cheers from adoring Ghanaians who lined the steets to welcome the heroines.
Meanwhile, the team has started a five-day rest since yesterday and will reassemble for an Olympic Games qualifier against D.R. Congo on October 25 in Kumasi