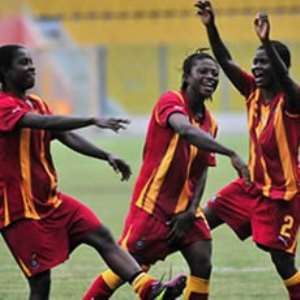 Twenty players have been called up into the senior women's national team as Ghana confirms her participation for the up-coming Wafu Tournament.
The Black Queens team headed to camp at the Ghanaman Soccer Centre for Excellence today (Friday, 21st September, 2012) to start preparations.
The selected players will train under head coach of the team, Kuuku Dadzie.
Selected players included:
1 Patricia Mantey (Gk) - Immigration
2. Nana Ama Asantewaa (Gk) - Police
3. Mageret Otoo (Gk) - Gathel Cape Coast
4. Cynthi Adobea - Reformers
5. Rosemary Ampem - Immigration
6. Hillia Kobblah - Faith Ladies
7. Linda Addae - Intellectuals
8. Beatrice Sesu - Intellectuals
9. Florence Okoe - Police
10. Mercy Myles - Reformers
11. Juliet Acheampong - Ashtown
12. Liticia Zikpi - Immigration
13. Elizabeth Addo - Atalata Ladies
14. Safia A. Rahaman - Lipo
15. Grace Asare - Reformers
16. Agnes Aduako - Fabulous
17. Portia Boakye - Fabulous
18. Samira Suleman - Hasaacas Ladies
19. Faiza Ibrahim - Gathel
20. Mary Baidoo - Police