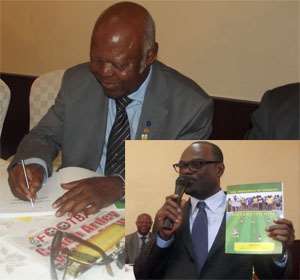 President of the Ghana Football Association (GFA) Kwesi Nyantakyi has described Ben Koufie's newly-published book as a legacy for Ghana football.
Nyantakyi, the publisher of the 176-paged book entitled, 'The Principles of Modern Soccer Coaching' commended the author for his efforts during the launch of the book in Accra last Thursday.
He indicated that the book is a befitting legacy for the football family and would serve as a tool for future generations.
'I got involved with this project three years ago and it is a mastery for all soccer lovers. Materials on coaching in this part of our world is scanty, so I see this event as a defining moment for Ghana football,' said Nyantakyi.
He added that the Confederation of African Football (CAF) had accepted the new book as an official coaching material for coaches and sports stakeholders who had embraced the book and pledged to use it.
Koufie, the author of the 16-chapter book, charged coaches to go the extra mile by embarking on extensive reading of coaching related materials.
The FIFA and CAF instructor also tasked coaches to vary their philosophies, adding 'it is better to lose and learn and in the process learn to win.'
Advertisement
Koufie, who thanked all, especially Nyantakyi for his financial backing, advised coaches to be themselves in their endeavours and esteem discipline.
To him, the launch of the material, intended to be a useful manual for coaches, teachers, the media, students and football fans, is a dream come true.
Chairman for the occasion, Dr Kofi Amoah, CAN 2008 LOC chairman, who launched the book, bought the first copy for GH¢10,000.
Nyantakyi paid GH¢5,000 while former FA chairman  Nana Sam Brew Butler also paid GH¢55,000 in support of the author.
Dr Amoah described the book as treasure and the author a giant who speaks with humility.
Other dignitaries also contributed in diverse ways to support of the launch of the book. The cover prize of the book is GH¢50 and it is available in all bookshops in the country.
  By Kofi Owusu Aduonum