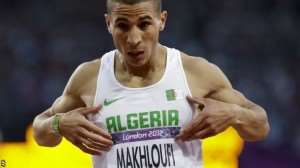 Algeria's Taoufik Makhloufi has been excluded from the Olympic Games for not trying in Monday morning's 800m heat.
Makhloufi, who won one of Sunday's 1500m semi-finals, was forced to race in the 800m after Algeria failed to withdraw him before Sunday's deadline.
The 24-year-old completed barely 200m of his heat before quitting.
The International Association of Athletics Federations said he had 'not provided a bona fide effort' and would be 'excluded from further events'.
Makhloufi lined up at the start of heat five, but quickly fell behind the rest of the field then stopped running and wandered across the infield.
'The referee considered that he had not provided a bona fide effort and decided to exclude him from participation in all further events in the competition,' read the IAAF statement.
However, an IAAF spokesman explained that he could be reinstated for Tuesday's 1500m final if he could get a medical certificate from a local doctor.
Makhloufi had been touted as a medal contender in the 1500m after surging past Olympic and world champion Asbel Kiprop in Sunday's semi-final to record a time of three minutes, 42.24 seconds.
His exclusion follows last Tuesday's disqualification of eight badminton players from the women's doubles competition after it was decided they were 'not using one's best efforts to win'.