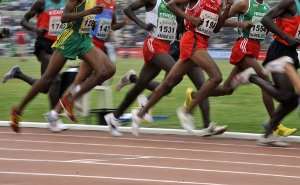 Accra , June 25, GNA - Ghana's contingent for the forthcoming African Senior Athletics Championship scheduled for Porto Novo, Benin has been slashed in order to meet budgetary constraints facing the Ghana Athletics Association (GAA).
Ghana's participation at the Benin event initially hanged by a thread due to a delay in the release of funds for the championship fixed for June 26 to July 1.
Information pieced together by GNA Sports indicates that 30 athletes have been sieved from the proposed 49 as the GAA grapple with the budgetary allocation made available by the National Sports Authority (NSA).
The contingent, scheduled to travel in batches, saw a number of them leaving Accra by road on Monday with the rest expected to make the trip in time on Tuesday ahead of the competition, which also serves as the final qualifying platform for the London 2012 Olympic Games for Ghanaian athletes.
The information suggested that less than half of the requested funds had been released to the GAA as at Monday with some athletes expected to begin their competition on Wednesday, June 26.
As it stands now, only category 'A' athletes have been selected for the championship contrary to the initial plan to include some junior athletes for the needed exposure.
Ghana will be hoping to increase her contingent for the summer Olympic Games as both the men and women 4x100 relay teams seek to run within the qualification mark at the Benin event which serves as their last before the quadrennial gathering in London beginning July.
While sprint queen, Vida Anim, Ignatius Gaisah and Margaret Simpson have already qualified for the Olympics, Ashad Agyapong - 200m: 20.66secs. (qualifying time is 20.65secs) is one-hundredth of a second off the qualifying mark with Allah Laryea Akrong - 100m: 10.27secs. (qualifying time is 10.24secs) also three-hundredths of a second off the qualifying time.
Similarly Keith Nkrumah - 110m hurdles: 13.68secs. (qualifying time is 13.60secs), Janet Amponsah - 100m: 10.51secs. (qualifying time is 11.38secs), Shepherd Agbeko - 200m: 20.92secs. (qualifying time is 20.65secs) are all shades off qualifying for the Olympics.
The men's 4x100 relay team, currently ranked 17th in the world will need to run itself into the first 16 to book qualification.
GNA