Tyres burn in widening Sudan protests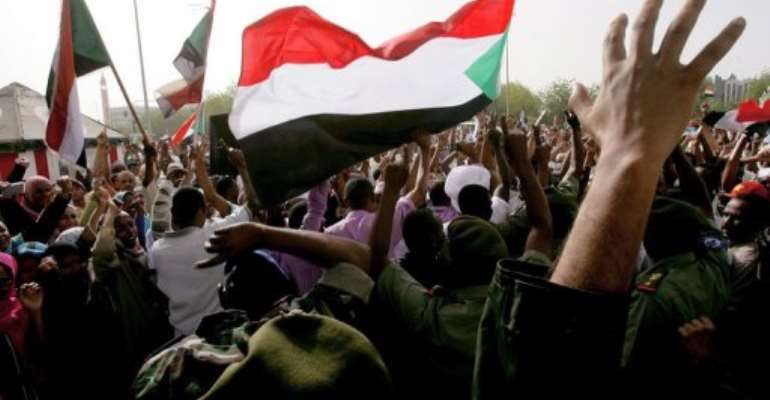 KHARTOUM, Sudan (AFP) - Sudanese anti-government protesters on Friday burned tyres and clashed with police on the seventh day of widening demonstrations sparked by rising food prices, witnesses said.
Demonstrations even occurred in the upscale district of Khartoum Two, home to business magnates and foreign embassies, where an AFP reporter saw tyres burning Friday afternoon and said police had fired tear gas.
In Khartoum's twin city of Omdurman, about 200 demonstrators rhythmically clapping and shouting for "freedom," earlier threw stones at police who fired back with tear gas, the AFP reporter said.
Security officers also used whips and batons against the demonstrators, who had blocked a road and set tyres ablaze.
Across town in the Burri area, tear gas fumes still stung the air after residents reported that police used force against their protest over high prices. Residents had blocked neighbourhood streets with stones, an AFP reporter observed.
Earlier, hundreds of people, mainly from the opposition Umma Party, gathered in Omdurman to call for regime change, a demonstrator there said. The crowd hurled stones while police used batons against them, he added.
Elsewhere, in Khartoum North district, about 100 youths burned tyres and shouted, "No, no, to high food prices," but they dispersed when riot police arrived, an AFP reporter observed.
A slightly smaller group, many of them women, held a sit-down protest on chairs to block a road in the same district on Thursday night. An AFP reporter saw riot police beat and detain several of the demonstrators objecting to the cost of food.
Witnesses in Sennar, the capital of Sennar state, said police there fired tear gas and used batons when up to 300 people shouted against rising prices on Friday afternoon.
Riot police have violently dispersed a string of protests since they began last Saturday outside the University of Khartoum and spread to other parts of the city.
Inflation has risen month after month, hitting 30.4 percent in May, and prices are expected to rise further after Finance Minister Ali Mahmud al-Rasul on Wednesday announced austerity measures including the scrapping of fuel subsidies.
Bankrupt Sudan has lost billions of dollars in oil receipts since South Sudan gained independence last July, leaving a country plagued by inflation, a severe shortage of dollars needed to pay for imports and a currency plunging in value.
University students have historically been in the forefront of opposition movements in Sudan, including in 1964 when protests led to a mass uprising that toppled the military dictatorship then in power.
The current regime of Omar al-Bashir, an army officer who seized power in 1989, withstood earlier student-led protests by thousands objecting to high prices in 1994.