Foreign Minister harps on advantages of Regional integration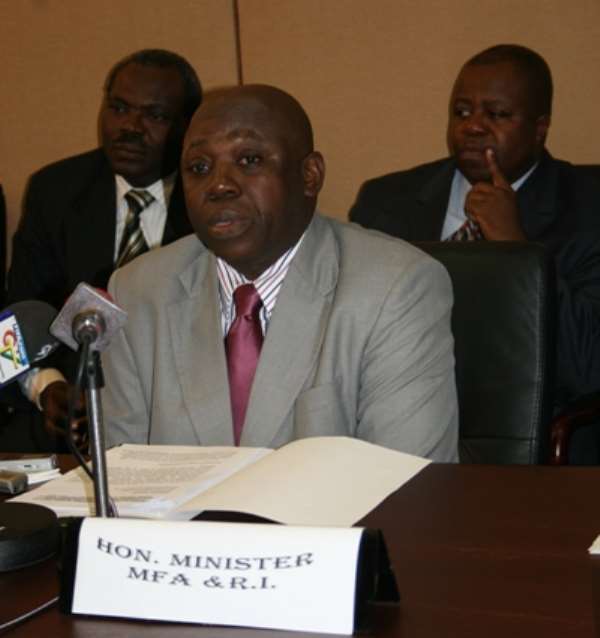 Accra, June 21, GNA- Alhaji Muhammad Mumuni, Minister of Foreign Affairs and Regional Integration (MOFARI) on Wednesday urged citizens within the Economic Community of West African States (ECOWAS) to facilitate the full integration of the Region.
Alhaji Mumuni made the call in an address read on his behalf at the opening session of a three-day seminar on ECOWAS Information and Sensitisation Campaign in Accra, which was organised by ECOWAS Commission and MOFARI.
He said it was important for the citizenry within ECOWAS Member-States to know and play their part in the implementation process for it to be successful.
"Implementation can only succeed if it is people-driven and people-centred. ECOWAS citizens must understand what they stand to benefit from community programmes and projects and above all, know what they stand to lose if they do not play their part in the implementation process," he stated.
Alhaji Mumuni noted that it was gratifying that since the inception of the paradigm shift by ECOWAS Commission from an ECOWAS of States to an ECOWAS of People, the focus of the regional body had been driven by the need to improve the standards of living of its citizenry with programmes and activities touching every facet of life including agriculture to ensure food security, trade, energy, infrastructural development, peace and security.
He said ECOWAS was relentlessly promoting cooperation and integration as a step towards the creation of a common market, which according its revised treaty, established the liberalisation of trade by abolishing customs duties levied on imports and exports and non-tariff barriers to establish a free trade area at the level of the community.
"There is no gainsaying the fact that effective grassroots participation by all of us including the public and private sectors, civil society, media, students as well as the informal sector is a necessary took to boost efforts at promoting intra-community trade, which is a necessary element for economic development," he added.
Alhaji Mumuni said adoption of ECOWAS Protocol relating to the origin of products, trade liberalisation within the sub-region had gone beyond agricultural produce to industrial products, with companies registered under the ECOWAS Trade Liberalisation Scheme now able to circulate their products freely.
Privately-owned companies registered under the Scheme in Ghana increased since 1999 from 15 to 266 in 2009 and 22 Ghanaian products have received approval to enjoy benefits under the system in the first quarter of 2012.
Alhaji Mumuni encouraged companies to take full advantage of the Scheme to add value to their products to participate in the various ECOWAS trade fairs.
He noted that ECOWAS Member States were concerned with the implementation of the Protocols on free movement of people, goods and services, which were at the heart of creating a regional economic community.
ECOWAS had therefore put in several mechanisms, including the abolition of visas and entry permits for intra-community travels, right of residence and establishment and the ECOWAS travel certificate and passport.
ECOWAS has initiated programmes to address some of the challenges affecting trade through the Road and Transport Ministries, including an improvement in road transit corridor programmes including the West Africa Transport and Transit Facilitation Project from Tema to Paga, and the Abidjan-Lagos Trade and Transport Facilitation Projects like development of coastal zones from Aflao to Elubo.
It has implemented the axle control strategy to reduce overloading of trucks to the barest minimum and is in the process of establishing three joint-border posts on Ghana's borders including Elubo- Ghana/Cote d'Ivoire, Paga- Ghana/Burkina Faso and Noepe- Ghana/Togo.
Alhaji Mumuni urged participants to use the opportunity to share views on challenges for a positive outcome and to transmit the outcome to persons in the Region and beyond.
Mr Sunny Ugo, Communications Director of ECOWAS Commission asked the participants to endeavour to be better informed about activities of the Commission and to be Ambassadors of ECOWAS preaching the gospel of regional integration, peace and security.
GNA