DISPAIR AND DEFEAT FOR RUSSIA AND POLAND AS CZECH AND GREECE CRUISE TO THE NEXT LEVEL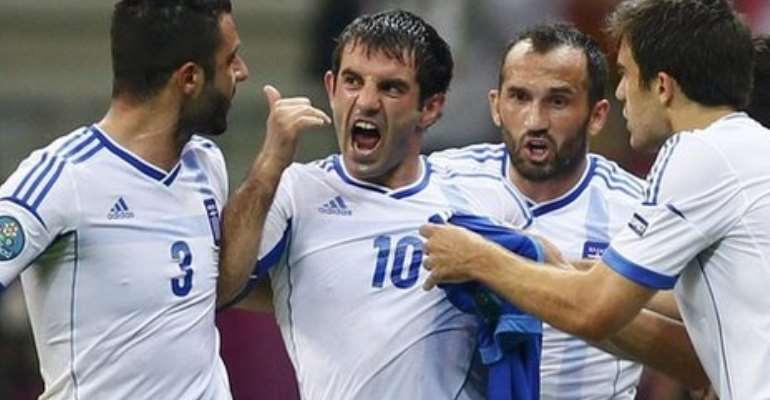 The group A matches between Greece vs Russia and Czech vs Poland was played simultaneously to avoid football malpractices and irregularities this evening. The Greek god Zeus, answered their prayer this evening by evoking the glorious spirit of 2004 that made them clinch the European cup of nations.
Zeus decided to speak aloud to prove critics of Greece wrong that, he was not absent during their 2-1 defeat by the Czechs, rather has a beautiful plan for them ahead as they shockingly stun 1-0 to sail through to the quarter final. The Russians, who humiliated the Czech in their opening group A match by 4-1 failed to fly against the Greeks, despite switching on all the turbine engines.
The Russians, who were group A leaders with 4 points crushed out of the tournament as the Czechs forced 1-0 out of co-host Poland in front of 40,000 fans. The Poles who played with every armoury in the possession, failed to impress the home fans as Czech hero of the day Jiracek fired home the winner on the 72nd minute.
Greece and Czech Republic managed to book their place in the quarter final with a hard fought battle after a poor campaign at the beginning of the Euro 2012 tournament. Poland who is co-hosting the tournament with Ukraine was thrown into mourning when they least expected it.
This tournament will be full of surprises as one of the best teams in the world, Holland is at the verge of crashing out of this year's tournament at the group stages. Holland has lost two of their group matches, but could go through to the next stage if they win their last match against Portugal, depending on the outcome of the Germany and Denmark game.
Stay tuned for more reports on subsequent matches to come.
Emmanuel Penzie