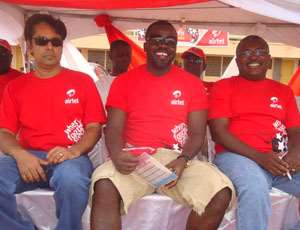 THE SECOND edition of the Airtel Ghana Rising Stars programme, aimed at unearthing talented future soccer stars got underway in Kumasi, the Ashanti regional capital last Sunday.
The three-day event, saw teams from the Ashanti, Brong Ahafo and the three northern regions, presenting selected under-15 teams to take part in the male and female soccer competitions.
The competing teams who form the Zone One category of the nationwide competition, was witnessed by former Ghana soccer legend, Samuel Osei Kufuor and Odartey Lamptey.
Speaking with DAILY GUIDE SPORTS , Kwame Gyan, Corporate Relations Manager, Airtel, said Messrs Kufuor and Lamptey who are products of juvenile soccer have been selected by his outfit as ambassadors of the tournament.
According to him, the tournament is being played concurrently in 17 African countries where Airtel currently operates, adding, winners in the male and female categories from the 17 countries would later meet to compete for top honours in Kenya.
Mr. Gyan noted that four best male players and two best female players in the tournament would be ferried to South Africa where they would attend a one-week soccer clinic.
He explained that the motive behind the commendable tournament was to discover and nurture talented footballers who would be given the platform to showcase their talents on the international stage by Airtel.
  FROM I.F. Joe Awuah Jnr., Kumasi