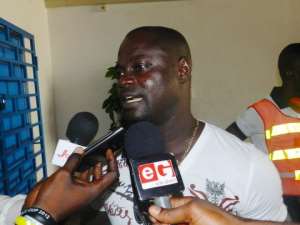 Former Black Stars midfielder Odartey Lamptey has predicted a massive victory for the Black Stars ahead of the World Cup qualifier against Lesotho.
Lamptey told Joy Sports on Multi TV the Akwasi Appiah led Stars are likely to win by a 3-0 margin.
"The three points is very important but I think 3-0 will be very good so that we will have the eagerness and the feeling to play against Zambia," he stated.
He is banking on the support of the Kumasi fans who he believes will show solidarity to Coach Akwasi Appiah who had an illustrious career with Kumasi Asante Kotoko.
"This is where we grew up and the fans here are marvelous when it comes to even the national side. So I am not surprised they've chosen here to play their first match especially when Kwasi is playing his first match here.
"And I am sure Kwasi growing up here and playing for Kumasi Asante Kotoko the park will be very packed to give him the maximum support to win today's match," he added.
Lamptey arrived in the company of Sammy Osei Kufuor, and London based football agent Justin Addo at the Kumasi Airport in a City Link flight.
The same flight had the Lesotho team on board.
The game is expected to start at 5:00 pm local time.