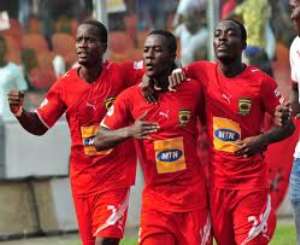 The 2011/2012 Ghana Glo Premiership curtains rolls off this weekend and the biggest talk in town is which two teams tees up with Wassaman to division one as all the eight centre's will be blazing hot with lot of unequal agenda's this Sunday.
At the Accra Sports Stadium Berekum Arsenals will be pushing their case hard against Glorious Hearts of Oak. Arsenal is still sitting in the relegation basket with 30 points and on the 13th position and a slip against the Phobians could cause their exit from the premiership.
What makes this match more interesting is that Hearts have been over taken on the ladder by Berekum Chelsea to the fifth position with 44 points and if the former continental club masters should lose to Arsenals then their supporters will rise up again on the management for non performance.
As usual, Hearts is still formidable in defence and in the midfield but their bite upfront has not been potent enough to scare most defenders throughout the season, a huge task that Coach C.K Akunnor needs to deal with next season.
According to sources Arsenals abrupt dipped in form could be attributed to unpaid bonuses and salaries to the playing body but the players have raised their tempo in their last two matches and if the defence of Hearts should leave any space unwatched at the back then the Berekum lads could give them a real hell of time.
Fourteenth placed Bechem united travels to the Gyamfi Park in Bekwai to seek solace from in form New Edubiase united. For my money Edubiase has been one of the best performers in this year's league and any team that travels to the Gyamfi Park first think of how to prevent their top marksman Emmanuel Baffoe from scoring a goal or two.
New Edubiase have no pressure on them as they are seventh on the log with 43 points but their counterpart, Bechem united are seriously battling issues with relegation and this will ignite them to light their last flame on Edubiase to see if they could escape the relegation boat before x'mas.
African Champions League campaigners Berekum Chelsea will host another relegation threatened side Mighty Jets at the Golden City Park.
Chelsea is fourth on the ladder with 44 points whiles Mighty Jets on the other hand is fifteenth with just 27 points and any further slip of points gives them a dirty relegation slap in the face and as both the playing body and the management are aware of this situation before embarking on this journey means the management needs to do something extra than just playing the ball on the green pitch to save them.
At the Tarkwa T&A Park, already 'gone till November', Wassaman united will pay their last homage to the Glo Premier league against Kpando Hearts of Lions.
Advertisement
Wassaman is sixteenth on the ladder with 26 points whiles Hearts of Lions who have experienced their quick-to-forgotten season this year are twelfth with 33 points.
Mysterious Ebusua Dwarfs continuous their mobile home issue as they journey to play as host to soccer miners Ashantigold at the Sekondi Sports Stadium in the biggest match of the weekend.
Dwarfs upon all that befell them half way through the season have still managed to be counted among the lot as they lie tenth on the spot with 36 points. Ashantigold on the other hand is third with 46 points.
The dream of the soccer miners is to finish second on the log but Dwarfs have proved beyond all reasonable doubt that when it comes to tactical and physical abilities, they have them in abundance and this will surely be evident in this encounter. At the end of the 90 minutes the team with the best tactics will go away with a slim win.
At the Dormaa Park, former African Champions League campaigners Aduana Stars will entertain the scientific soccer lads, Liberty Professionals.
Aduana Stars is sixth on the spot with 43 points whiles Liberty is eighth with 41 points. Both Liberty and Aduana are technically gifted but Aduana have a slim advantage over Liberty in this particular match as they play at their favorite Dormaa Park.
All Stars will welcome Medeama Sporting club at the Wa Park. Wa All Stars is ninth on the table with 39 points whiles Medeama is second with 46 points.
At the Baba Yara Sports Stadium in Kumasi, the 'Porcupine Warriors' Asante Kotoko will be seeking to crown their 22nd league trophy with a win against Tema Youth.
Asante Kotoko has all it takes to beat Tema Youth in front of their vociferous fans but in matches like this if the maximum care is not taken anything could happen.
PREDICTIONS
HEARTS OF OAK 2 – 1 ARSENALS
NEW EDUBIASE 1 – 1 BECHEM UTD
CHELSEA 2 – 2 MIGHTY JETS
WASSAMAN 1 – 1 HEARTS OF LIONS
EBUSUA DWARFS 0 – 0 ASHANTIGOLD
ADUANA STARS 1 – 0 LIBERTY PROFESSIONALS
ALL STARS 1 – 1 MEDEAMA SC
KOTOKO 2 – 0 TEMA YOUTH