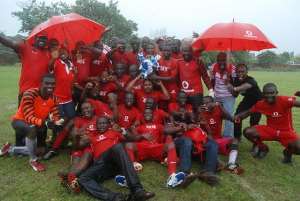 Accra, May 22, 2012: Vodafone Ghana, one of the world's leading telecommunications brands, on Saturday proved that they are just as good at work as they are at play. The annual Tullow Invitational Tournament was brought to an exciting end as the telecommunications giants swept the ultimate prize away from its contenders.
The first goal of the game came in two (2) minutes to the end of the 90 minutes by Tullow and this was equalized by Vodafone, 60 seconds before the referee blew the whistle. The heated game saw the two contenders even the final match out with a 1-1 draw causing the win to be dictated through a penalty round. After a very tense round of penalty kicks, Vodafone Ghana emerged the winners with a 4-2 scoreboard in their favour.
Speaking about the tournament and the pleasant surprise Stephen Essien, the team's coach asserted that "At Vodafone, we are encouraged and empowered to do our best in everything. It doesn't have to be about work or business. We were excited to be part of the tournament as we knew this would be a good platform to network and work together outside a corporate environment. It was an honour playing with Tullow as they are a great team, but we at Vodafone were a force to contend with. We came here with a purpose and I am happy to say we achieved it. We look forward to retaining the title next year."
Advertisement
This victory was an especially significant win for the telecommunication brand as the host had recently secured the ultimate prize at the Vodafone Business Solution's Football Challenge in February. The Tullow Team emerged the winners for the 6 week Football Challenge, leaving Vodafone Ghana sourly displaced as hosts. Winning the gala has in some ways helped to avenge that defeat.
In its third consecutive year, the Tullow Invitational Tournament is a full day gala which hosts a number of corporate teams at the St Thomas of Aquinas Football Park. In addition to the organizers, GNPC, Dizengoff, Ecobank and Vodafone Ghana were the five participants that contested in the Football gala.