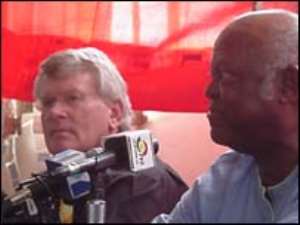 The chairman of the Ghana Football Association Ben Koufie says the Black Stars coach Burkhard Ziese is free to contest his dismissal anywhere in the world. The FA chairman was reacting to the German's threat to contest his dismissal by the Ghana Football Association at FIFA.
Burkhard Ziese told the BBC he has given the GFA an ultimatum of 30 days to rectify certain issues concerning his dismissal or he will take the matter up at FIFA.
It is not exactly clear what issues Burkhard wants settled by the FA but joyonline can confirm that the German will tell FIFA his dismissal is unlawful.
He claims his contract was for the World Cup in 2006 and not the African Cup of Nations, a tournament he failed to qualify the Black Stars for. Ziese also says the FA's reasons for terminating his contract are 'unacceptable.'
The FA cites incompetence and non-performance among others as the reasons for dispensing with the services of Burkhard whose performance according to the GFA chairman Ben Koufie has highly been disappointing.
Both the Black Stars and the Meteors won three matches out of a combined fifteen under the second spell of the German. Burkhard's threat to go to FIFA is not an empty one.
He has built quite a confrontational reputation at FIFA after engaging both Ghana and Zambia at FIFA over unlawful dismissal in the 90's.
But Ben Koufie says he is not moved by the threat and that Ziese can do whatever he pleases. It appears meetings between the German and the FA have failed to produce a truce between the two.
Ben Koufie told myjoyonline that Burkhard Ziese's sack is non-negotiable.
Meanwhile the German says he has profound respect for Ben Koufie who he calls a Gentleman but derided some of Koufie's advisors who he claims are pushing their own agenda.