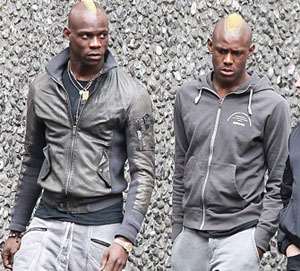 Manchester City striker Mario Balotelli amazes the world with the two things he knows how to do best: playing football and acting crazy.
The Ghanaian born football maestro is said to have gone so crazy that he actually urinates and asks his younger brother, Enoch, to drink it for an amount of £5,000.
Balotelli's self-confessed secret girlfriend, Chloe Evans, was the one who made the urine drinking revelation to the Sun newspaper in the UK.
'One night Mario told his brother Enoch he'd pay him £5,000 if he drank his wee.
Enoch said he would, so Mario went off, weed in a glass and passed it to Enoch. He took a big gulp. Everyone went 'Yuk' but Mario thought it was a riot.
I asked Enoch if Mario gave him the cash and he said yes. They thought it was so funny,' Chleo disclosed.
She added: 'Another night we went for a meal and he threw a lobster right at my head, claws and all. I screamed.
But everyone fell about in stitches- and eventually I had to see the funny side. Who else would do something like that?'
Chleo said in her opinion Balotelli was one of a kind: 'There's nobody else like him in the whole world.
It's like being in the best Disney film you've ever seen. The fantasy, fun and action just never seem to stop.
'Being in Mario's life is a whirlwind of toys, sweets and kids' games. His house is like a children's playground- everything is just mad.
About the only thing he didn't do was to throw a foam pie in my face.
I'd open my eyes in the morning and he would be stood over me with a huge cheeky grin.
Then he'd pull out a bottle of water and squirt it over my face.
I'd run away. But he would chase me and pull my knickers into a wedgie. Once he pulled my pants so hard, they tore in half.'