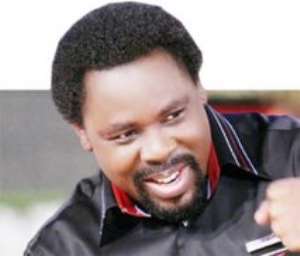 T. B. Joshua Prophet T. B. Joshua, the world acclaimed Man of God, believes Chelsea Football Club need more prayers if they are to break through in the final of the European Champions League.
" From what I have seen so far Chelsea need more players than Bayern Munich" in that final, Prophet Joshua stressed in a televised service live from Lagos, Nigeria Sunday.
The Man of God, whose prophesies have been making the headlines in recent times, told the congregation that he saw a clean-shaven player of Bayern put the ball into the net.
" I watched the first half of that match in which a player of Bayern, without hair on his head, put the ball in the net", T.B. Joshua revealed on emmanuel.tv during the T.B. Joshua Ministries.
The revelation prompted a congregant, apparently a supporter of Chelsea, to ask the prophet for prayers for Chelsea.
The prophet, who revealed he was also a fan, however denied reports purported to have been carried on Supersport and such social media on the internet as Facebook, that he had predicted the outcome of the Chelsea-Bayern final to be played in Munich.
Indeed, it was after such reports that he went into the spiritual realm to see what was in store, after which he concluded that Chelsea needed more prayers than their opponents.
The much-touted Champions League final comes off at the Allianz Arena in Munich on Saturday, May 9.