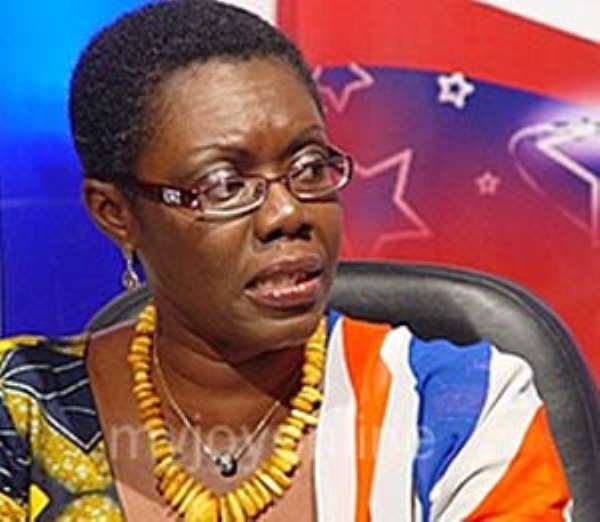 Ursula Owusu
The New Patriotic Party's aspiring Member of Parliament for Ablekuma South, Ursula Owusu has said that the Mills/Mahama-led administration is HIPC bound and retaining it in power will only seal the doom of Ghanaians.
The Heavily Indebted Poor Countries (HIPC) Initiative was the first international response to provide comprehensive debt relief to the world's poorest, most heavily indebted countries. The HIPC Initiative was launched by the World Bank and the International Monetary Fund (IMF) in 1996, and was further expanded in late 1998 (Enhanced HIPC Initiative).
Ghana joined the Enhanced HIPC Initiative in March, 2001 and subsequently progressed to the decision point in February 2002.
The Ablekuma South parliamentary aspirant was speaking on  Peace FM's  morning show  Kokrokoo  Thursday morning in contributing to a discussion of a paper NPP's vice-presidential candidate, Dr. Mahamudu Bawumia delivered at a lecture on the state of the economy.
Ursula Owusu noted that the same economic management team that plunged Ghana into HIPC is the same team which has been brought back by the Mills/Mahama administration and from all indications, Ghana is not far from being declared a highly indebted poor country once again.
Ms Owusu pointed out that Amissah Arthur, former deputy Minister of Finance and now Governor of Bank of Ghana; Kwabena Duffuor, former Governor of BoG and now Minister of Finance; and then Vice President J.E.A Mills who was the Chairman of the Economic Management Team, as the key actors who looked on haplessly as Ghana's debts piled on.
She added that the nation cannot expect different results when it employs the same people who have failed in the past.
Responding to Dr. Bawumia's lecture, Ms Owusu said the statistics, particularly inflation figures being generated by the Ghana Statistical Service does not add up. According to Ms Owusu, the Cedi exchange rate for instance exposes several weaknesses in the much touted strong macro indicators of the National Democratic Congress' government.
The aspiring MP chided the ruling government for engaging in what she said was deception, noting that all that the NDC has done to the economy is to use propaganda to manage the economy which she added has failed.
According to her, the best treatment to be given to the NDC is to show them the exit in the upcoming December general elections.
Source: Myjoyonline