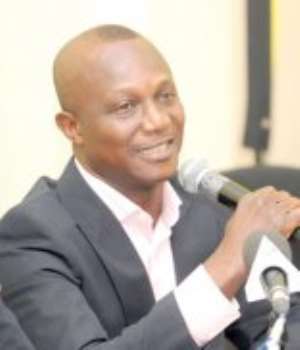 Not many successful players have made a smooth transition to become good coaches when their playing days are over.
However, James Kwasi Appiah, the man now in charge of Ghana's male senior national football team, Black Stars, is determined to chart the path of success as few of his colleagues have done.
When the Stars coaching job became vacant after it became obvious that the Ghana Football Association (GFA) had fallen out with Goran Stevanovic, the Serbian's assistant, Kwasi Appiah, was hardly mentioned in the list of possible successors.
Even though he was given the job temporarily, Appiah himself admitted it never crossed his mind that he would be the immediate successor. Perhaps, it was time and chance!
The dust eventually settled , the GFA's head-hunting ended and the former Black Stars captain was named as the 42nd coach and the 16th local person to assume the hot seat following in the steps of older comaptriots like C.K Gyamfi, Ben Koufie, Osam Duodu, E.K Afranie, Herbert Addo who have all taken turns to handle the Stars at one time or another.
The appointment, which took effect on April 17 and which will run for an initial two-years with a renewable term, continues the steady progress for a man who has paid his due as a player for his club and country.
He may have the goodwill of most Ghanaians who have all along called on the GFA to give an indigene the chance and can rely fully on the support of the players whose determination to achieve more with the national team has been the main power pushing the Stars up the ladder.
However, there are some who doubt his ability to successfully handle this job as they claim all he has is an All Africa Games gold medal won with the Black Meteors last year in Maputo, Mozambique, as the brightest spot on his coaching credentials.
Appiah, who holds UEFA Licence B coaching certificate, maintains he would not be detracted by those who doubt his ability but will let his performance speak for him. He insists he has gathered enough experience as an assistant coach to fully take charge now.
"As a player, I think I paid my due and gave my all to both club and country. I may not have played at the World Cup but I think anyone who watched me play cannot say I did not give my best.
"Yes, I don't have 20 years experience in the coaching job handling top-notch teams, but I think I've gained much more experience working as an assistant from 2008 to my current appointment to be able to handle the team. Besides, modern day football doesn't necessarily link success to how long you've stayed on the job. I think I should be given time to prove my worth.
"I would not have talked about this issue but the expatriates who came before me had no experience yet we gave them the chance. They came to Ghana and improved upon their CVs with the Stars, so why not us?
" It's all about planning and gaining the confidence of the players and being a disciplined side. The coaches were not extraordinary but they succeeded and I believe I have the confidence of the players I'm going to work with.
"Besides, there will be no compromises when it comes to discipline. Discipline was my cardinal principle when I was player and it continues to be. Anyone who wants to be in my team would have to submit to the rules and regulations both on and off the pitch.
"I understand how some people feel but I think I've gone through the mill to be able to get to this point. I intend to succeed and will bring along the valuable lessons I have acquired in my long association with football as a player and coach to the job and I know things will work out fine.
"There is no need to rush. We will take each game as it comes but we will not take our eyes off winning. I understand the passion with which people follow the game and the Stars in particular. Nobody is more Ghanaian than I am, and I'm also as passionate about the national team winning and once I'm in charge, I'd do all I can to ensure that the Stars remain the flagstar of Africa as they have done in the recent years."
"I've been to the World Cup as an assistant coach and it will be a dream come true if I lead the Stars to qualify for the World Cup in 2014. I missed out on that opportunity as a player and it is a long-cherished dream that I intend to fulfill."
He also dismisses the assertion that he has been given the job to pacify him for the blunder in 1992 when the Stars captaincy was taken away from him and given to Abedi Pele, sparking off a silent feud, particularly among the teeming Kotoko fans.
"That was in the past and it has not even crossed my mind. I'm proud of whatever I was able to achieve with the Stars as a player even though we could not win the ultimate. I do not see my appointment as a compensation for anything. I believe I've worked hard to be where I am today and would not want anyone to dwell on the past.
"We need to be positive-minded so it can impact on what we do."
Having assumed office, Appiah has indicated that as a coach, he would relish the opportunity to achieve with the Stars what he could not achieve as a player even though he clearly understands the challenges.
The dynamics may have changed, but basics remain the same, and the man, nicknamed Mayele for his steel character at the rear once he was in action, knows the terrain too well to be able to find his way through the sticky situations
Afterall, he has been the assistant coach of the Stars since 2008, being a member of the handlers of the Stars team that played at the 2010 Nations Cup, the 2010 World Cup and the 2012 Nations Cup.
His main priority as he gets down to serious work will be to find a lasting solution to the left-full back position which continues to be the problem child for the Stars. Incidentally, he played as left-full back so he knows exactly what he'd be looking out for. He has indicated that a few players have caught his eye on his tour of the country as the coach of the local Black Stars, so hopefully there will be a quick solution.
Mayele began his playing career from the basics as a left-full back with divison one side, Mine Stars, and rose to play for one of the most glamorous teams, Kumasi Asante Kotoko, from 1983, maturing to captain the team before his retirement in 1993, a year after he retired from international football.
With Kotoko, Appiah won eight league titles and the 1983 African Clubs Championship.
His achievements as a player also include the CAN 1982 title the Stars won in Libya, as well as captaining the team to qualify for CAN 1992. He also captained the Black Meteors from 1980 to 1982.
When he hanged his boots, Appiah decided to stick to football and worked as an assistant to Malik Jabir, Abubakar Ouattara and Burkhard Ziese from 1993 to 1996.
In 1996, he took charge as Kotoko coach, and with his desire to rise in the profession, left for the United Kingdom to undergo training as a coach.
He returned in 1999 and worked as an assistant to Sir Cecil Jones Attuquayefio in 2001.
After the Stars' abortive World Cup campaign and subsequent dissolution of the squad, he returned to London to further upgrade himself.
With very little for him to do in Ghana, Appiah remained in London with his family but stayed in touch with the game, organising the Ghanaian community to participate in the inter-nationality football competitions held for African nationals in the UK, continuing with his upgrading courses until 2008 when he felt it was time to return home.
Luck smiled on him on his return as he was appointed as the Stars assistant coach after Coach Claude Le Roy and Sellas 'Borbor' Tetteh had ended their stint with the national team at CAN 2008.
On first impression, he comes across as a soft-spoken , shy person, indeed a man of little words; but once he took to the field, he was a transformed person, coming across as a man made of steel, covering every blade of grass within his territory, a character that most coaches loved to tap in to.
The man says while naturally he has a calm disposition which could even be misconstrued as being 'too soft' that does not apply to his job.
"Yes, I'm a calm-natured person and do not speak much. That does not make me soft or inefficient when it comes to my job. I think what I did while I was a player speak for itself, and as coach, there will be no soft play as people may be saying."
Appiah's first game in charge of Ghana will be against Lesotho in a 2014 World Cup qualifier in Ghana and Ghanaians will be watching with bated breath what marks he would score with the Stars as he begins the journey of making a case for local coaches in a country that has acquired so much foreign taste that self belief in indigenes had become like looking for a needle in a haystack.
Quick Fact File

Playing Career
* Mine Stars: 1979 to1981
* Kumasi Asante Kotoko: 1981-1993
* U-23, the Black Meteors: 1980-1982
* Black Stars: 1981-1992
* Captained Kotoko and Black Stars
Achievements:
* Eight League titles with Kotoko
* Continental Club champion with Kotoko, 1983
* African champion, CAN 1982
* Runner up, CAN 1992
Coaching career
Assistant coach, Kumasi Asante Kotoko: 1993-1995
Head coach Asante Kotoko: 1995-1996
Assistant coach, Black Stars: 1999-2000
Assistant coach, Black Stars: 2008-2012
Head coach, Black Meteors: 2011
Achievements:
* Runner-up, CAN 2010
* Quarter-finalist, 2010 World Cup
* Winner, 2011 All Africa Games
* Fourth place CAN 2012
graphic.com.gh/graphicsports