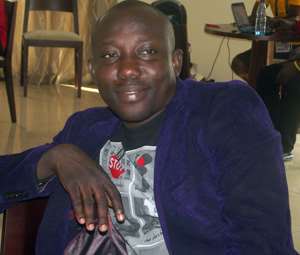 The President of New Edubiase FC, Abdul Salam 'Sabato' Yakubu, has expressed displeasure about the disparaging remarks Tony Yeboah made about striker Emmanuel Baffour.
Yeboah, nicknamed Yegoala for his scoring abilities in the Bundesliga and the EPL in the '90s, is alleged to have rubbished Baffour's scoring instincts, saying, 'It's media hype; he is an ordinary player.'
That has infuriated Abdul Salam, who has asked the former Ghana international to render an unqualified apology to the management of Edubiase and the player in question.
'I am highly disappointed in Yeboah for passing those comments. I'm surprised a player of his caliber made those remarks. It's rather unfortunate, and I would want him to apologise to the player and management of Edubiase,' the Edubiase boss said on Happy FM.
'I expected that Yeboah would rather encourage Baffour to mature to become like he was back in the years; rather, he is passing negative comments about the player'.
'Baffour's exploits have attracted international attention, and such negative remarks could affect his move to the international market,' he added.
Now a golfer, Yegola, the former Black Stars and Eintracht Frankfurt top scorer, refused to comment on the issue when DAILY GUIDE SPORTS contacted him on his cell phone yesterday, saying, 'I am not ready to comment on this matter, just take it as you heard it.'
Baffour has had an impressive season, hitting the back of the net 21 times and heading for the 2011/2012 top sorcerer's prize with four games to end the season.
The in-form forward has scored against all the 15 Premier League teams, and is hoping to raise his tally when the season ends.
Edubiase is placed seventh on the league table with 39 points.
By Kofi Owusu Aduonum