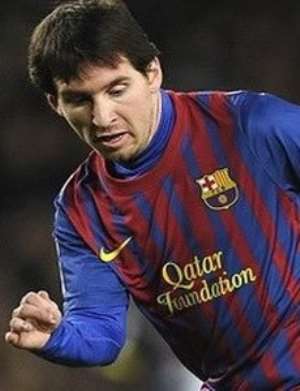 The player who is braced to shatter every conceivable individual goal record this season expects to be at his destructive best against Chelsea.
But, today, Messi finally shatters the dreams of home supporters who dared to believe that one day the Argentinian superstar would be lured to England.
The 24-year-old marksman would court the attention of every ambitious club across the globe if he ever made himself available.
But it's the Barcelona fans that will openly rejoice at his decision to pledge his future to the club for life and turn his back on talk of ever leaving the club.
"I have never thought about life beyond Barcelona. My heart belongs to the club and I can never see the day arrive when I want to leave.
"It has always been my intention to stay here since the very first day I arrived and nothing has convinced me to change my mind.
"I accept you never know what can happen in the future but if it's my decision and my decision alone then I would be happy to finish my playing career at the club."
Messi admits that he is a huge fan of the English game and frequently watches games on television.
But his love of English football only extends to being a spectator and he harbours no ambitions to play there.
He added: "The Premier League is immensely exciting and when I get the opportunity I love to watch it on television. There is a great deal to admire about English football.
"It's very competitive and played at a phenomenal speed. They play with their heart, with plenty of emotion, spirit and determination.
"And the supporters are enthusiastic, passionate and very fair. I know from my experience of playing against English clubs how their supporters appreciate good football and talent.
"English clubs are tough, strong and very physical but when the game comes to an end they are always humble, fair and decent even in defeat.
"But I could never see the day arrive when I would play in England. It's hard to look beyond my own club and it's not something I have ever thought about or considered."
Messi's two goals against Levante in La Liga last night saw him equal the English league record of 63 goals in a season set by Everton's Dixie Dean back in 1927-28.
And beyond Dean, Messi could also challenge Ferenc Deak's total of 66 goals scored for Hungarian side Ferencvaros during the 1948-49 season, Brazil legend Pele's 66-goal tally for Santos in 1958 and Gerd Muller's 67 with German giants Bayern Munich 1972-73.