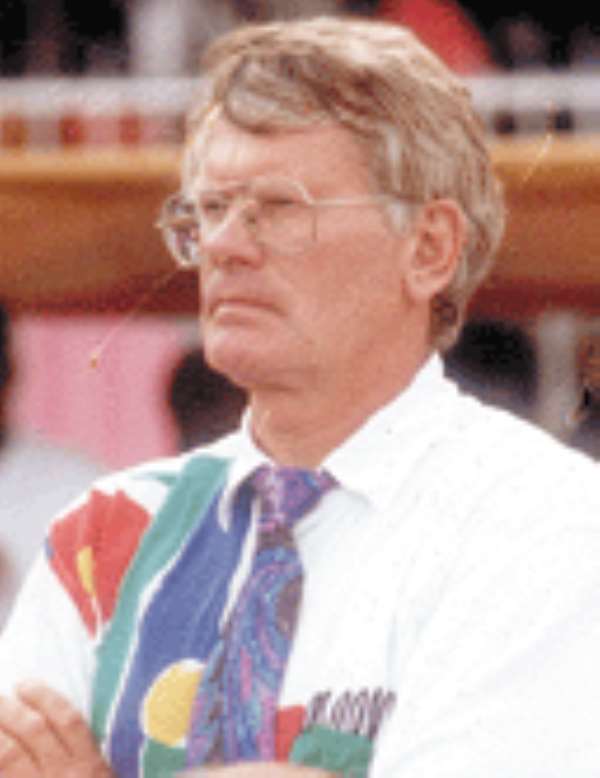 Embattled Black Stars coach Burkhard Ziese has indicated his desire to have a fifteen minute audience with President Kufuor to discuss the current state of Ghana football. He told the host of Joy FM's FrontPage program Kwaku Sekyi Addo that "the President will be shocked to find out some of the things going on in Ghana football."
The German describes President Kufuor as the only man who speaks the truth concerning Ghana football. He hailed the president's speech at the recent SWAG awards night, which proscribed witch-hunting of individuals for the decline in Ghana Sports.
The President said merely looking for scapegoats will not help improve the state of Ghana sports. Burkhard who has been given notice of termination of his contract feels he is being hounded out of office prematurely.
His claims his contract expressly states that he was signed to qualify Ghana for the 2006 World Cup and just kicking him out of office because he failed to qualify the Black Stars for the 2004 African Cup of Nations is "unacceptable".
The German did not win a single match as Black Stars coach since arriving here in Accra for his second spell as the coach of the national team.
The FA cites non-performance and a frosty relationship between the German and some of the members of the national team as some of the reasons for terminating his contract, which takes effect from September 5.
The former Zambia coach has meanwhile reiterated his threat to contest his dismissal if the GFA does not rescind its decision to get rid of him.
Burkhard says he will exploit a clause in his contract with the Ghana football Association which allows either party to lodge a compliant with FIFA in the event of either party abrogating the contract.
Burkhard has a reputation for being litigious after taking on the GFA at FIFA in 1991.
He also contested his dismissal by the Zambian football federation in the court of the world football governing body.