"I Want Essien And Kevin Boateng" - Stars Coach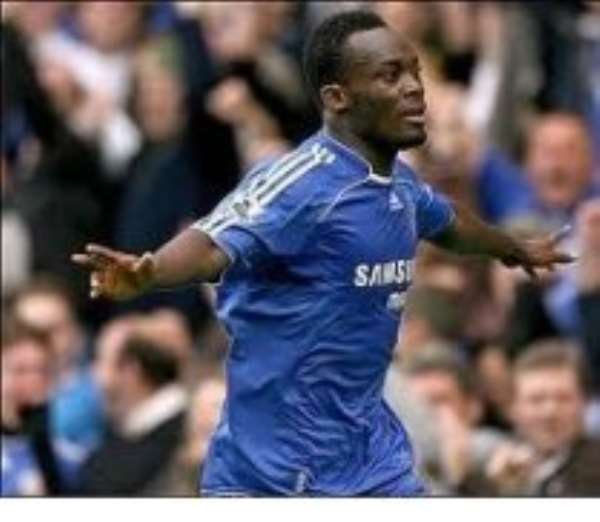 Michael Essien
Uunder fire Black Stars coach, Goran Stevanovic,does not know if he will keep his job or not, but certainly he seems to know what has to be done to get the best results.
If he has his way, he will bring AC Milan's Kevin-Prince Boateng and Chelsea's back as soon as practicable to get the Stars back to their sterling performance.
According to Stevanovic, Boateng who resigned from the Stars on medical grounds last November and Essien, yet to return to the team after his long injury lay-off, as well as striker Asamoah Gyan, are quality players whose services are considered 'valuable' to the Stars.
Last Wednesday, Stevanovic told a GFA press conference that these were tested players who had proved their worth and who he would not hesitate to call up to help the cause of the Stars.
" Unfortunately, I can only use players who are available. We all know that Essien is now picking up but he will be monitored closely and as soon as he feels ready to play, he will be invited.
" On Kevin-Prince, yes he is a fantastic player who could be valuable to the team but he has taken a decision on some grounds and if it's possible I'll bring him back. That is if he rescinds his decision on his retirement," Coach Stevanovic explained.
He, however, disagreed with the assertion that he was the reason why Boateng, particularly, had resigned from the Stars as they had a lot of disagreement while he was also giving some players preferential treatment.
He described Gyan as a player who creates fantastic things for the team. "He's a quality player who the Stars need for future assignments", Stevanovic noted and told the Graphic Sports that he backed the GFA's decision to talk the Al-Ain striker out of calling time off his career with the national team.
Apart from these players, Stevanovic admitted that there was the need to check out some more players and give them the chance and indicated his readiness to give the local players the chance as he believed they had a future but lacked the experience and exposure.
" I appreciate the quality of the local Premier League. The players have a future what they need is the exposure and experience and I'm ready to give them the chance to improve upon their skills," Stevanovic said in reaction to what he made of the Glo Premier League.